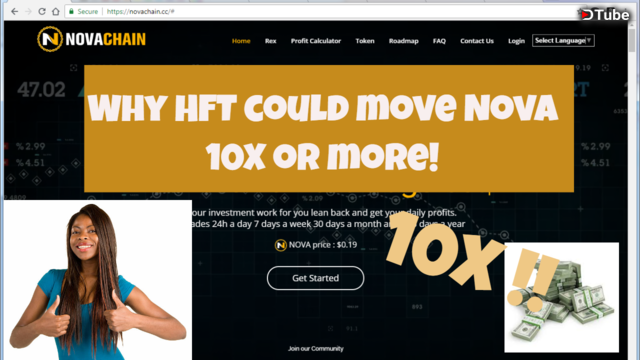 ---
This video is about updates happening with the platform Novachain and their new HFT - High Frequency trading Bot T-REX.
Q/ What is Novachain ?
A/ NOVACHAIN is an investment platform, offering an spread and arbitrage bot called REX. The team has used the bot in the last 6 years successfully for forex trading and decided to adapt it for the crypto market under the name REX
You can check it out here
https://bit.ly/2CoaBRJ
https://novachain.cc/register?ref=SCJK
Official Announcement channel: https://t.me/NovaChainOfficial
Novachain Community : https://t.me/novachain_community
Q/How to use Rex?
A/ In order to be able to use the bot, investors will need to buy NOVA tokens from the exchange and invest them into the bot. Here they will be converted to ETH at the current market value of NOVA. The system will use the ETH to perform the trades and will return the profits to the customers account. The customers can use the ETH for future trades or can cash them out by converting them to NOVA. This will guarantee our investors that they will not have a depreciation of their crypto portfolio in ETH, like it is happening in a regular USD investment. No matter what will happen to NOVA, the ETH value will increase daily.
Q/ How do I store NOVA tokens ?
A/ NOVA is an ERC20 standard token, so it can be stored in many different Ethereum based wallets. We recommend using MyEtherWallet, Mist, Parity or MetaMask.
Use this informations to add a custom token in MyEtherWallet or MetaMask.
Token specification:
Token Symbol: NOVA
Token Decimals: 18
Token Contract Address: 0x1A231dF765d0F7674F55d20D022BCb38DA794501
!! Remember DON't Deposit to this address!!
Q/How to invest in Nova and Rex ?
In order to invest in REX, you will need to acquire NOVA tokens from our internal or external* exchanges and use them for investment. The system will calculate the USD value of your investment based on the same exchange rates and will distribute profits based on the daily trade opportunities. The first daily profits will be distributed after 24 hours since the investment moment
---
▶️ DTube
▶️ IPFS