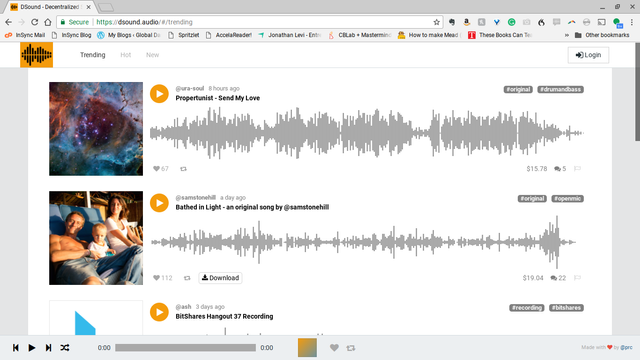 ---
Imagine being a musician that has complete control over how you distribute your music; directly to your fans without any central authority being able to regulate it, take it down, or censor it in any way. Imagine being able to financially support your favorite musicians just by giving them an upvote.
Dsound is a decentralized sound distribution network that's hosted on the blockchain, pays the musicians in Steem, and it's developed by Pedro Reis Colaco, better known as @prc on Steemit. The following interview will tell you all about it.
This is a game changer folks! You're going to like this...
Of course, because this is open to all audio content, I think this could be a huge paradigm shift for podcasters as well. It's now possible for a content provider with a relatively small but loyal audience to actually make a living from the value that they are providing to their audience. You don't have to be Joe Rogan to survive, you just need to provide value to a few thousand people.
Uncensored.
Unencumbered.
Untaxed.
We are about to see what a free market can actually produce. I for one am excited!
Please follow @prc, get onto DSound, and show your support for this project as well as Dtube. It's up to us as a community to build something great for us as individuals.
(An audio-only version of this interview will be coming via DSound soon!)
For more articles, videos, podcasts, and interviews be sure to follow me on Steemit.com/@layl and subscribe to my weekly email updates at LiveAllYourLife.com
You can help support this project by re-steeming or forwarding this post, spread the word, get involved, and post some audio clips through DSound! Let's make this happen!
---
► Watch on DTube
► Watch Source (IPFS)