Overcoming my Fears | Skating the 3-stairs Hubba after a Hard Slam
Hello everyone.
Today's #steemskate vlog is all about overcoming my fears. Some months ago I "enjoyed" a painful slam down the 3-stairs hubba at #ioannina city #skate park doing a FS Crooked Grind and since then I am not even bother skating it. Not because I don't like it, I love hubbas, it's just that everytime I was trying to do something different than a 50-50 grind I was scared of getting injured.
So yesterday, the only thing in my mind since I woke up was to overcome my fears and skate this hubba. I was in a good mood, full of energy and confidence so I finally tried skating it. It wasn't easy at first but once I got the hang of it the tricks kept coming! I won't name the tricks, just click play and enjoy.
#SKATEFORLIFE
Thank you all for watching and supporting me my friends and if you want to see more skateboarding check out our awesome community on Steem called "Steemskate" in which you actually own your content and getting paid for it.
Hit the sign up button and join the fun.
Here is the link
https://steemit.com/@steemskate
Much love to everyone and have fun.
Music : Wu Tang Clan Type Beat - Crisis Combat [Prod. Fresco]
Find me Here
Steemit.com : https://steemit.com/@knowhow92
Instagram : https://www.instagram.com/haris_housos/
Youtube (Brave Browser creator) : https://www.youtube.com/user/pwrepous...
Greek Youtube channel (Brave Browser creator) :
https://www.youtube.com/channel/UCJTN...
Twitter : https://twitter.com/theocharis_ch
Palnet : https://www.palnet.io/@knowhow92
Creativecoin.xyz : https://www.creativecoin.xyz/@knowhow92
Steemace : https://www.steemace.io/@knowhow92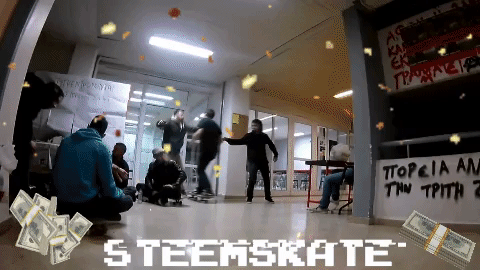 ---
▶️ DTube
▶️ YouTube