DTube - We Rally For Reason Against Violent AntiFa and Nazism - The Fight Has Just Begun!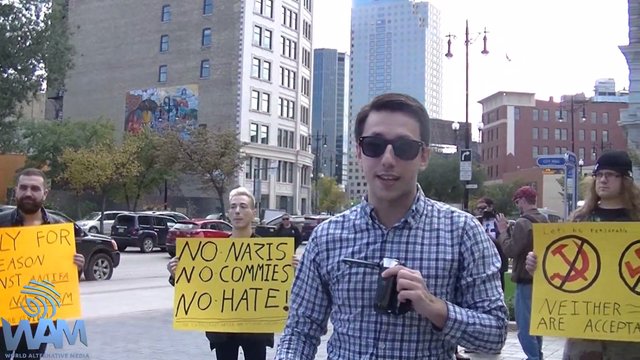 ---
One of our recent adventures!
See the original article below:
Josh Sigurdson reports on WAM's 'Rally For Reason Against AntiFa & Nazism' following violent confrontations from communist leaning AntiFa organizations throughout Canada, the United States and Europe.
On September 9th, Todd McDougall hosted a rally against state run mainstream media. AntiFa threatened him as a fascist and a bigot for hosting a rally that had nothing to do with either. The WCAI announced they wanted to defend Todd. Todd disavowed. He showed up to his preplanned rally spot only to be confronted by nearly 200 people, many waving communist flags. They tried to shove him into traffic, spit on him, assaulted him, poured water on his head, screamed over him, shoved his girlfriend around and yelled "shame shame shame" while he protested warmongering propaganda by the state run media.
None of these people even knew why they were attacking him, but they did all the same.
We at WAM decided we needed to hit back. So we put on the Rally For Reason Against AntiFa and Nazism to show people in Winnipeg that they should not be afraid to speak on a public street. That people should be able to be against a communist practice without instantly being a nazi and vice versa.
We were joined by a diverse crowd of thought and ethnicity. We were joined by great people from the LGBTQ community and had a lot of dialogue with great people who passed by. AntiFa despite constant violent threats against us did not end up showing up showing that they are afraid to have a dialogue and afraid to deal with reality without 200 people to back them up.
We will continue to try and push the envelope and get people out as so many fear being attacked for having a view right of Mao.
Stay tuned for more from WAM!
---
► Watch on DTube
► Watch Source (IPFS)