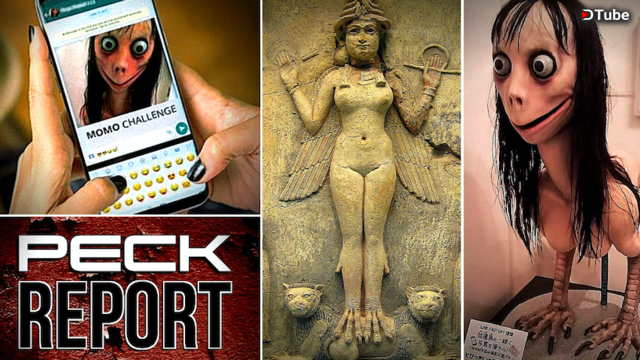 ---
http://JoshPeckDisclosure.com PLEASE SUBSCRIBE AND SHARE! Is the Creepypasta Momo Challenge a Satanic Hoax Perpetuated by the Demonology Lilith? | Peck Report
From Josh Peck: For those who haven't heard, our son Nathan was just recently diagnosed with leukemia. This is why there hasn't been as many updates on this channel. If you wish to contribute, you can do so at the JPD donate link below or, if you prefer, the fine people from Hear The Watchmen have set up a GoFundMe for us: https://www.gofundme.com/a-little-peck-needs-your-help
Finally, a Peck-Approved kratom! For the highest quality kratom at the most affordable price with a money-back guarantee, visit Coastline Kratom at https://www.coastlinekratom.com/?ref=4557
Josh Peck is now proudly endorses CBD Pure and CBD Pet, the absolute most top-quality, organic, nonGMO, scientifically tested CBD oil on the planet, for people and their pets!
CBD Pure - https://www.cbdpure.com/?AFFID=394382
CBD for Pets - https://www.getcbdpet.com/?AFFID=394382
Order The Second Coming of the New Age Official Collection at: https://www.skywatchtvstore.com/products/second-coming-of-the-new-age-official-collection
Install free Mind and Miracle Productions Android apps! Learn about Christianity, the Book of Enoch, Bible prophecies, Gnosticism, Hermetism, Rosicrucianism, Templarism, Freemasonry, Nikola Tesla's Patents, and more! - https://play.google.com/store/apps/developer?id=Mind+and+Miracle+Productions
Your support is essential to JoshPeckDisclosure, which is funded by viewers like you. Please support the show by making a one-time donation or signing up for a monthly recurring donation at: http://joshpeckdisclosure.com/donate or for as little as $1 a month, become a Peck Patron at http://patreon.com/joshpeck and let's build something amazing and change this crazy world together!
More Josh Peck:
Patreon: http://patreon.com/joshpeck
Website: http://JoshPeckDisclosure.com
Steemit Blog: http://steemit.com/@joshpeck
Email - JoshPeckDisclosure@Gmail.com
Facebook - http://facebook.com/josh.peck.5264
JoshPeckDisclosure - http://youtube.com/JoshPeckDisclosure
Twitter - @JPDisclosure
---
▶️ DTube
▶️ IPFS