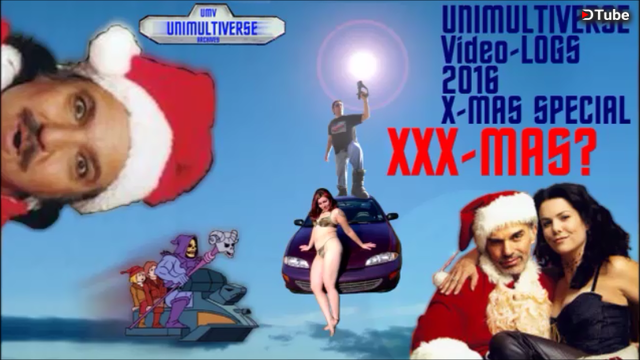 ---
UNIMULTIVERSE Video-LOGS 2016 X-MAS
BitChute: https://www.bitchute.com/video/RnSRpyYcCqIO/
WhaleShares: https://whaleshares.io/dtube/@joey-fancy/umv-vl-2016-x-mas
Joey with a co-host reviews BAD STANTA or BADder SANTA and VERY VERY BAD SANTA.
Joey then deals with the HE-MAN AND SHE-RA CHRISTMAS SPECIAL.
Originally uploaded to YouTube on December 24, of 2016 at 4:57 PM.

Also uploaded to BitChute https://www.bitchute.com/video/RnSRpyYcCqIO/ on December 15th, of 2018.
UniMultiVerse Archives videos like this one also get posted to BitChute https://www.bitchute.com/channel/joey-fancy/ and on BitChute as well as DTube you usually can find links to Steemit Articles and WhaleShare articles about the videos, as well as alternate upload locations.
Tis the season to revisit some X-mas classics, so now I (Joey) am sharing with DTube an old video for Christmas of 2016, I didn't get around to doing a video for Christmas 2017, but two years later it's time to share this video here on DTube. (And some related Steemit and WhaleShares articles, plus this can be viewed on both YouTube and BitChute, even after the video expires on DTube you should be able to find links on DTube that will enable you to play it elsewhere)
Music in this video:
"Voltaic"
Kevin MacLeod (incompetech.com)
Licensed under Creative Commons: By Attribution 3.0
http://creativecommons.org/licenses/by/3.0/
Hopefully you will enjoy this,
Live long and prosper, and have a merry fucking Christmas!
---
▶️ DTube
▶️ IPFS