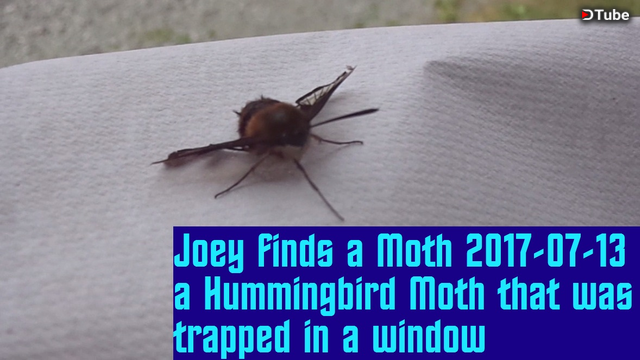 ---
Joey finds a Moth 2017-07-13 a Hummingbird Moth that was trapped in a window
BitTube: https://bit.tube/play?hash=QmehsyGKE7dr6LqYBzdhtwcAMwSRF94WJWVZPzCPeWpsSy&channel=169618
DLive: https://dlive.tv/v/joey-fancy+5YmCI3RRR
Steemit Article 1: https://steemit.com/moth/@joey-fancy/0tf8437o
DTube 1:
An other animal video by Joey Fancy, this time a moth. The title probably says it all, but if you want to read more about this video, you can check out the related articles linked in this video.
This is a video with a moth found in a smoky dusty work place toxin filled window, the nature of the environment was not the best for this small animal, and even more so just being trapped in any window is very hard on a moth... so Luckily I managed to get this moth out into a safer environment.
This old video has been on DTube before, but that version