Erdogan: US Trying To Form 'Terror Army' In Syria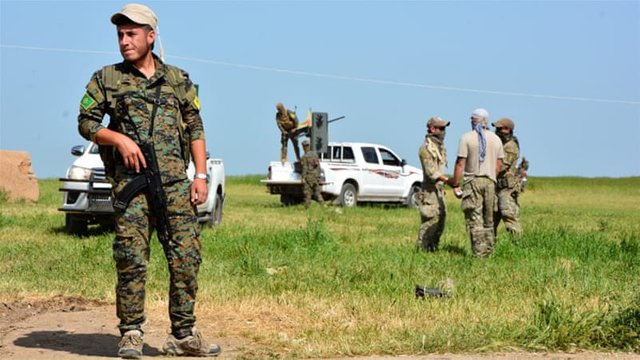 Turkish President Recep Tayyip Erdogan said that the US was working to form a "terror army" on his country's southern border by training a new force in Syria that includes Kurdish fighters.
"What we are supposed to do is to drown this terror army before in comes into being," he said in an address in the capital Ankara on Monday, calling the Kurdish fighters "backstabbers" who will point their weapons to the US in the future.
His comments came after reports revealed US' plan to establish a 30,000-strong new border security force with the involvement of Kurdish fighters in northern Syria.
According to media reports quoting US officials, the US-led coalition fighting the Islamic State of Iraq and the Levant (ISIL also known as ISIS) will recruit around half of the new force from the Syrian Defence Forces (SDF), an umbrella group of fighters dominated by the People's Protection Units (YPG).
Ankara considers Kurdish YPG fighters as a "terrorist" organisation with links to the Kurdish fighters within Turkey that seek more autonomy. The US views the YPG as a highly effective fighting force against ISIL.
Erdogan said that Turkey's armed forces had completed preparations for an operation against the Kurdish-controlled region of Afrin in northwest Syria and the town of Manbij.
He warned Turkey's allies against helping "terrorists" in Syria and said: "We won't be responsible for consequences."
Turkish foreign ministry made a statement in the same line late on Sunday, saying that it was "wrong and objectionable" to cooperate with the YPG.
"The establishment of the so-called Syria Border Protection Force was not consulted with Turkey, which is a member of the coalition," the Turkish foreign ministry said.
"To attribute such a unilateral step to the whole coalition is an extremely wrong move that could harm the fight against Daesh," it added, using an alternative acronym for ISIL.
Turkish forces pounded US-backed Kurdish fighters in Syria with artillery fire on Sunday, after the intention to establish a new force was announced.
Turkey carried out a military campaign called 2016 Euphrates Shield Operation, which targeted ISIL and the YPG. That eight-month battle officially ended in March 2017.
US' YPG move
US President Donald Trump decided to arm YPG fighters, despite Turkey's objections and a direct appeal from Erdogan at a White House meeting last May.
American arms shipments began before the offensive to recapture the city of Raqqa from ISIL. YPG played a prominent role in defeating the group in its former de facto capital in northern Syria late last year.
Tensions between the NATO allies remain high, despite Trump saying last November that Washington would no longer supply weapons to the YPG.
A senior Syrian Kurdish official said on Sunday that fighting between the YPG and Turkish forces was already under way.
"There are attacks and clashes on the border between Turkey and the People's Protection Units YPG," Hediye Yusuf said on Twitter.
She called Turkey's operation against Afrin a "violation" that "undermines international efforts to reach a political solution in Syria".
Ankara has been reinforcing its southern border by sending armoured vehicles, tanks, and heavy machine guns, according to local media.
Turkey has been working closely with Russia and Iran to end the nearly seven-year Syrian war, despite Moscow and Tehran supporting Syrian President Bashar al-Assad - and Ankara backing the anti-Assad opposition.
YPG is considered by Turkey to be a "terrorist group" with ties to the banned Kurdistan Workers' Party (PKK), which has waged a decades-long fight inside the country.
PKK is blacklisted as a terrorist organisation by Turkey and its Western allies. More than 40,000 people in Turkey have been killed since the 1980s after the PKK launched its rebellion.