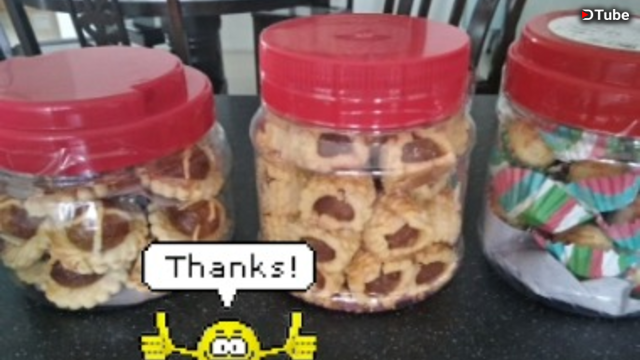 ---
Call me perfectionist but I just want to keep on trying till I get it right. Today, I decided to change a bit on the design of the pineapple tart. Instead of having the pineapple filling placed on top of the pastry, I chose to have it filled inside the pastry and do a rose-like design on the pastry.
The recipe is just as below only that I had to add icing sugar and corn flour to the pastry. However, I failed the first time around on the pastry as I was too confident but the second try on the pastry worked like miracles. I am indeed proud of the final product and best part, my family even lend me a helping hand .. of course that includes the cookie tasting part :)
With this recipe, I managed to make over 130 pieces of pineapple tarts with some loss in transition by the food critics. Definitely a fun family activity ... to some point at least. Enjoy my video until my next adventure of baking or cooking !
---
Special thanks to @nathanmars who inspired me to start on my journey with DtubeSnap. Now, I just can't get enough of it and I don't want it to end at all.
Welcome to the Dtube Revolution:
DtubeSnap - Dtube video that is less than 1 Minute long
DtubeSnapX - Dtube video that is more than 1 Minute but less than 3 minutes long.
DtubeSnapPlus- Dtube video that is more than 3 minutes long
DtubeSnapQ - Dtube video that contain authentic question/s for Dtube community
#SnapComment - Comment with no further response/replies from the person who write the comment
#SnapPlusComment - Comment that is open to more engagement by the person who write the comment
#SnapFeedbackComment - comment that contains feedback/s that related to content/comment itself or feedback that related to content creator's journey.
Come join us. It's starts with just 1 minute of your busy life!
Record & Upload to https://d.tube/#!/upload!
You might just find a different YOU in video as compared to writing.
---


---
▶️ DTube
▶️ IPFS