Plan 9 from Outer Space (1959) Full Movie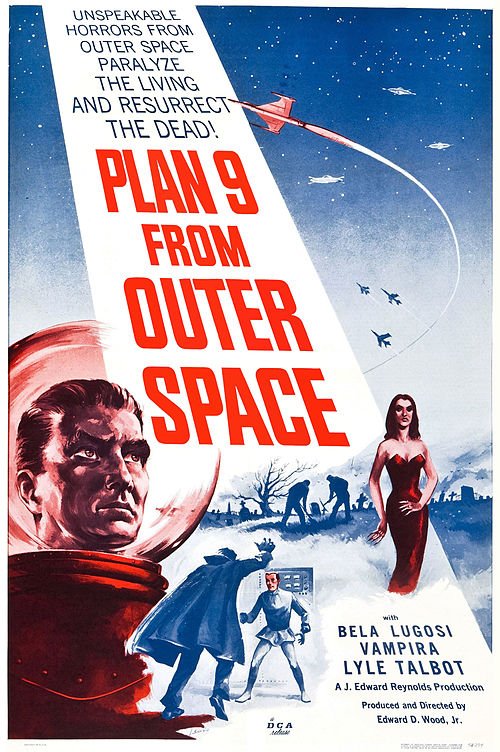 ---
Aliens trying to stop humanity from creating a doomsday weapon that could destroy the universe implement "Plan 9", a scheme to resurrect the Earth's dead, referred to as "ghouls". By causing chaos, the aliens hope the crisis will force humanity to listen to them. If not, the aliens will then destroy mankind with armies of the undead.
Plan 9 from Outer Space (originally titled Grave Robbers from Outer Space) is a 1959 American independent black and white science fiction-horror film, written, produced, directed, and edited by Ed Wood, that stars Gregory Walcott, Mona McKinnon, Tor Johnson, and Vampira. The film also posthumously bills Bela Lugosi as a star (silent footage of the actor had actually been shot by Wood for another, unfinished film just prior to Lugosi's death in August 1956). Plan 9 from Outer Space was released theatrically in 1959 by Distributors Corporation of America (as Valiant Pictures).
Plan 9 from Outer Space played on television in relative obscurity until 1980, when authors Harry and Michael Medved dubbed the film the "worst movie ever made" in their book The Golden Turkey Awards. Wood and his film were posthumously given two Golden Turkey Awards for Worst Director Ever and Worst Film.
Cast
Credited
Gregory Walcott as Jeff Trent
Mona McKinnon as Paula Trent
Duke Moore as Lt. John Harper
Tom Keene as Col. Tom Edwards
Carl Anthony as Patrolman Larry
Paul Marco as Patrolman Kelton
Tor Johnson as Inspector Daniel Clay
Dudley Manlove as Eros
Joanna Lee as Tanna
John Breckinridge as The Ruler
Lyle Talbot as General Roberts
David De Mering as Danny
Norma McCarty as Edith
Bill Ash as Captain
Rev. Lynn Lemon as Minister at Clay's funeral
Ben Frommer and Gloria Dea as Mourners
Conrad Brooks as Patrolman Jamie
Maila Nurmi as Vampire Girl
Bela Lugosi as the Old Man/Ghoul Man
Criswell as Himself/Narrator

Uncredited
Donald A. Davis as Drunk
Johnny Duncan
Karl Johnson as Farmer Calder
Tom Mason as the Ghoul Man (Lugosi's fake Shemp)
Hugh Thomas, Jr. as Gravedigger (also associate producer)[2]
J. Edward Reynolds as Gravedigger (also executive producer)[2]
Ed Wood as Man holding newspaper
Marcus Hutton as organ player

https://en.wikipedia.org/wiki/Plan_9_from_Outer_Space
---
► Watch on DTube
► Watch Source (IPFS)