Sherlock Holmes: Dressed To Kill (1946) Full Movie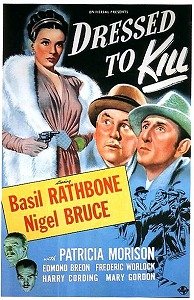 ---
Dressed to Kill, released in 1946, also known as Prelude to Murder (working title) and Sherlock Holmes and the Secret Code in the United Kingdom, is the last of fourteen films starring Basil Rathbone as Sherlock Holmes and Nigel Bruce as Doctor Watson.
Directed by Roy William Neill
Produced by Roy William Neill
Written by Frank Gruber
Leonard Lee
Based on The Adventure of the Six Napoleons
1903 short stories (56)
by Sir Arthur Conan Doyle
Starring
Basil Rathbone
Nigel Bruce
Patricia Morison
Cinematography Maury Gertsman
Edited by Saul A. Goodkind
Production company
Universal Pictures
Distributed by
Universal Pictures
Release date
May 24, 1946 (New York City, New York)
Running time
76 minutes
Country United States
Language English
https://en.wikipedia.org/wiki/Dressed_to_Kill_(1946_film)
Plot
A convicted thief in Dartmoor prison (played by an uncredited Cyril Delevanti) hides the location of stolen Bank of England printing plates inside three music boxes (each of which plays a subtly different version of "The Swagman"). The boxes are sold at a local auction house.[1]
A criminal gang's brains belong to a darkly beautiful, ruthless woman, who is also a "consummate actress", as Holmes learns. She disguises herself as a charwoman and speaking Cockney, insults and berates both Holmes and Watson, whom she pretends not to recognize, and leaves with a music box right under their noses. Holmes must recover the last music box to crack the secret code contained in the tune before it is too late.
License: Public Domain
---
► Watch on DTube
► Watch Source (IPFS)