Sita Sings the Blues (2008) Full Movie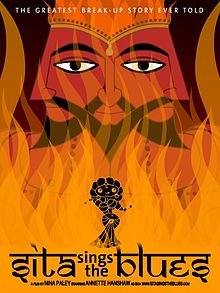 ---
Sita Sings the Blues is a 2008 animated film written, directed, produced and animated by American artist Nina Paley. It intersperses events from the Ramayana, light-hearted but knowledgeable discussion of historical background by a trio of Indian shadow puppets, musical interludes voiced with tracks by Annette Hanshaw and scenes from the artist's own life. The ancient mythological and modern biographical plot are parallel tales, sharing numerous themes.
Directed by Nina Paley
Produced by Nina Paley
Written by Nina Paley
Starring
Sanjiv Jhaveri
Nina Paley
Deepti Gupta
Debargo Sanyal
Reena Shah
Pooja Kumar
Aladdin Ullah
Narrated by
Aseem Chhabra
Bhavana Nagulapally
Manish Acharya
Music by Annette Hanshaw et al.
Release date
February 11, 2008 (Berlin International Film Festival)
Running time 82 minutes
Country United States
Language English
Budget $290,000
https://en.wikipedia.org/wiki/Sita_Sings_the_Blues
http://www.sitasingstheblues.com/
License: Public Domain
---
► Watch on DTube
► Watch Source (IPFS)