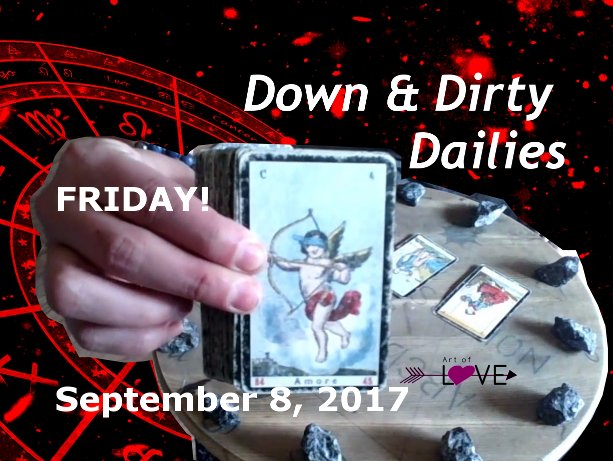 ---
Welcome to your daily tarot reading for today, done lottery style! And TGIF!
So, today's song that got picked is called "Green Apples," by Chantal Kreviazuk. The central focus that is consuming someone's mind is all about love, today. And we're hearing there may be some feelings of jealousy or insecurity that have been roused here...
It was interesting to me to see that it was a literal mirror reflection of emotions being shared between two very complimentary people, but who have some kind of a divide between them.
I was hearing something about crossed paths and what happened over a long period of time that was spent waiting for something that never manifested.
They say that the woman was holding onto something that gouged at her heart for a long time. I was hearing it may have been about 4 years spent waiting for this ship that never came in.
The Guides are funny how they will move energy around and use me as their vessel when I do this work. I noticed that at one point, I laid the two people's cards down on opposite ends. This is where the Guides were informing me that these people are literally mirror images of one another.
I was hearing that for someone who has been hurt over the time 'away' from their twin soul, these messages may resonate. And I'm led to remind you that you can never truly be separated from that which is a part of you. Your twin is always with you. (And yes, waiting is always the hardest thing...) 💘
There was a lot of emotion that I could feel coming up around the person who was there crying and organizing the thoughts they never said. I saw a clear image, like the one on the card, of the woman sighing and crying by the water...writing down what she meant to say before the words got in the way.
The two sides of this story appear to be going through the same thing, somehow, in their own separate and respective lives while feeling connected. I hear that they are in "empath hell" and that it's just time to put aside ego and speak up so they can feel better. They say that "Everything is mutual." So, I hear it won't be an unworthy gamble to take a step and make a gesture.
Well, hope that made sense for whomever it was intended for! And I also hope you have an amazing weekend!
Please let me know if you're interested in a personal reading with me. I have a very special way I am able to offer them for free and you can learn more about that here at artofloveoffering.gr8.com
Love & thoughts,
Intuitive Jakob
artoflove.me
---
► Watch on DTube
► Watch Source (IPFS)