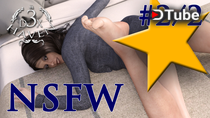 ---
This is Part 2 of how i create a 3DX render in Daz and Photoshop. This video shows how i retouch the render that i've created in DazStudio (Daz3D) in Part 1.
For retouching i always work in my old Photoshop. This time the plaster repair tool is very helpful - it isn't always that easy ;)
Like in the first Part i go through 3 steps:
1.) Deciding what i needs to be changed
2.) Retouching step by step
3.) Post-processing to apply artistic style and my personal taste
Also look out for Part 1 that is about setting up the pose and render in DazStudio:
https://d.tube/v/haven3dx/nxxr5y49
I will publish the final render on steemit and https://patreon.com/3dxhaven - Check it out!
Any questions? I'm looking forward to answer your comments :)
Thanks for watching!
KEEP ON SUPPORTING ORIGINAL CREATORS!
➢ Steemit: https://steemit.com/@haven3dx
➢ Patreon: https://patreon.com/3dxhaven
➢ Main Project: http://luisa3d.com
➢ Homepage: http://3dxhaven.com
---
▶️ DTube
▶️ IPFS