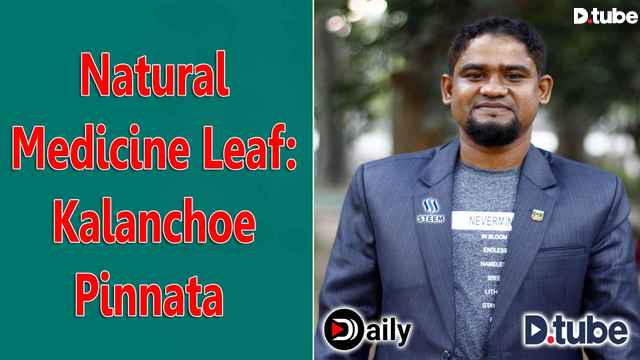 ---
Hello Dtubers,
Many people in our country are still dependent on natural ingredients when it comes to treatment. One of those natural remedies is the Kalanchoe Pinnata tree. In locally we called Pathorkuchi. Its leafs have been used since ancient times. However, one of the features is that when the leaves are left on the ground, new trees are formed. In our country it is commonly used for various diseases of the stomach including kidney disease.
An easy and brief explanation of its usefulness is found in Bengali Wikipedia, which is highlighted below.
Kalanchoe Pinnata leafs are incomparable to prevent disease. In the old cold, the juice of the leaves is heated by heating. Leaf juice is fed to prevent urine from small to large. Eating levels are higher in adults. In any urinary tract infection, blood clots, abdominal cramps, children's abdominal pain, epilepsy patients are given stoned juice. Urinary stones capable of healing stones. In addition, if acne, wounds and muscles break down, poisonous insect bites, the juice of this leaf is baked in the fire.
Source:
Thanks all for understanding the value of Natural things.

Subscribe me DTube: https://d.tube/#!/c/hafizullah

Follow me Twitter: https://twitter.com/hafizdhaka

Add me Facebook : https://www.facebook.com/hafiz.metu

Subscribe my Channel on YouTube: https://www.youtube.com/channel/UCMjwsztBrprT7XWeVwURrjA
---

---

Thanks for understand the value of the green nature for a beautiful and secure planet.
---

We are a self reliant community that is focused on each individuals want and drive to do for themselves. Let us encourage each other as we share our own adventures, learn new skills, meet new people, and build blocks.
---
---
▶️ DTube
▶️ YouTube