For Watching the Answer, Just click the Below Image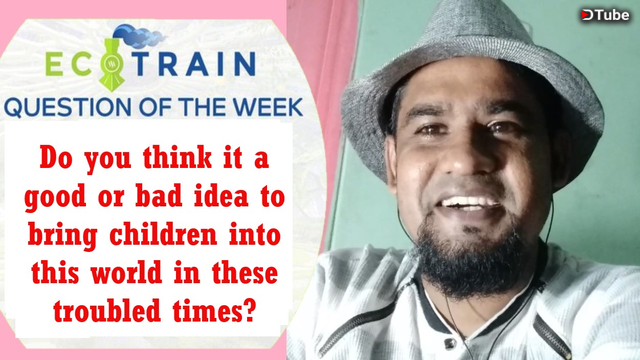 ---
Hello Friends,
Good Morning all!
This is first time I am participating in the Weekly Question of @ecoTrain.
It acknowledged that the modern technology of the world, new inventions, all the innovations of a better life, could not make our world as safe enough. Given the opportunity to enjoy our life more and more, but on the opposite side, the world is taken to the edge of destruction. Destroying the green phenomenon and destroying the environment, in addition to climate problems, could not make us safer, better, healthier than our ancestors.
So we'll stop? The next generation will not come forward? Problems are going up, so we should back? Or to find ways to solve the problem by going ahead? Not to be stopped or backed up, but rather to find solutions, to move forward with the new generation.
We know that the current world is not entirely suitable for children. Children are not responsible for this; it is our failure. So we have to take responsibility for the solution. We have the responsibility of building a beautiful and inhabitable world for them. If we have a healthy mental development in children, we will have to create a safe environment for them.
But in this case we have to try new things. Of course children should be brought to earth. They have to be showered in new messages. Knowledge, science, and intellectualization have to be developed as worthy for the twentieth century. They can use their talent to solve climate problems. They can play a leading role in building beautiful green earth. Who can say? They will not succeed?
If new children do not come to earth, who will be responsible for managing the next world? Because today's children are the future of the nation's and the world. One day this child will lead the society, the country and the world. It is our responsibility to keep the world living. Let's try to make the world beautiful and safe with all the children. There is no solution to stopping, the solution is to try.
If you want you can also participate, See the Question HERE
Thank you all for watching my answer.
@hafizullah

Subscribe me DTube: https://d.tube/#!/c/hafizullah

Follow me Twitter: https://twitter.com/hafizdhaka

Add me Facebook : https://www.facebook.com/hafiz.metu
---
▶️ DTube
▶️ IPFS