Corazón Delator - Soda Stereo (Cover Acústico)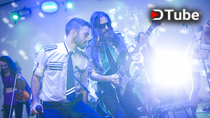 ---
ENGLISH BELOW
Hola Steemians les dejo este cover que hicimos con el gran cantante Gastón Bell sobre una de las bandas más grandes de Latinoamerica, Soda Stereo, y a mi criterio una de las canciones más hermosas que tiene la banda, Corazón Delator!
Pero antes les cuento un poco acerca de la banda para los que no la conocen:
Soda Stereo fue una banda Argentina que se formó en Buenos Aires en 1982 por Gustavo Ceratti (voz y guitarra), Héctor "Zeta" Bosio (bajo) y Carlos Alberto Ficicchia "Charly Alberti" (batería). Fue la primer banda hispanohablante en llegar a tener un hit masivo en Latinoamérica. A partir de ahí la banda no ha parado de recolectar fans y seguidores de su música y ha realizado grandes giras y conciertos multitudinarios por todo el continente y hoy por hoy es una legenda del rock nacional Argentino y del rock hispano.
Lamentablemente su cantante y líder Gustavo Ceratti falleció en el año 2014 tras estar 4 años en coma en la camilla de un hospital fruto de un ACV (accidente cerebrovascular)
Voy a estar subiendo más covers de rock nacional pero también internacional, y también voy a estar subiendo tutoriales de guitarra. Si tenes cualquier pedido o sugerencia no dudes en hacerlo y si te gusto por favor ayúdame con tu voto o reestem.
English:
Hi Steemirs here it´s a cover we filmed with the singer Gastón Bell about Soda Stereo, one of the biggest Latin American band of all times! To my judgement, one of the most beautiful songs from the band, it´s call Corazón Delator!
But first, I tell you a bit about the band, for those who don´t know:
Soda Stereo is an Argentinian band that was formed in Buenos Aires on 1982 by musicians Gustavo Ceratti (voice and guitar), Héctor "Zeta" Bosio (bass) y Carlos Alberto Ficicchia "Charly Alberti" (drums). It was the first Spanish-speaking band to get a famous hit in Latin America. From there, the band hasn´t stop to gain more and more fans and has done big tours and concerts all over the continent. Nowadays it´s an Argentinian national rock and Hispanic rock legend.
Unfortunately, the singer and leader died after being 4 years in a coma, cause of a stroke.
Ok guys, I´m gonna be uploading videos to DTube, some good covers from band/artist all around the world and also tutorials. I hope you like, and if you like please support me and don´t hesitate to ask or do a suggestion
---
▶️ DTube
▶️ IPFS