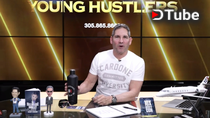 ---
You have to ask yourself what you can do to save the deal. First pick the people you know. Lean on them. I expect my family to buy from me.
If your own family won't buy from you, how are you going to close somebody else?
Don't overcomplicate sales. Drop the tricks.
You don't need to take an NPL class to get more deals. The name itself should already tell you.
Why would you need to take a science class to close a deal?
That's just stupid….
Close the Proximity Between You and the Target
Just like when you were a kid you said when you wanted something from your momma—you closed the distance by coming over and grabbing her leg.
You didn't ask for a new puppy from across the room. You closed the distance.
That's how you need to approach your customers. The closer you get, the more deals you'll close.
Ask Hard Questions
The #1 reason you don't make the sale is because you didn't' ask for it.
When you're a kid you say, "Why not momma? Momma. Momma. Momma."
You asked for what you wanted and you didn't stop asking...until she said yes and told you to go bother your sister.
A lot of you think you are asking for the close but you aren't.
It's like scratching a car—that's not a wreck. Mentioning that you might do business in the future is not asking for the sale. "BUY IT NOW" is asking for the sale.
If they aren't buying, ask the hard questions:
● What else can I do to save the deal?
● Why won't you buy from me?
● Why aren't you buying from me today?
● Is it me or the deal?
I don't think about yesterday. I'm focused on the future. Looking ahead.
I had a few wrecks in my life. If I thought about them every time I got on the road I would get in another accident.
You have to keep going. Keep acting. Never lower your target.
Only increase activity.
A lot of you think you're doing enough but you are not.
You have to stay top of mind with people. You have to be breaking news.
Some of you think that your business is different.
It's not.
How do you make a happy customer? You close them. I guarantee that the people that are most unhappy are the ones that I didn't close.
Sales is Simple:
● Focus on the sale
● Focus on the close
● Focus on the follow-up
Go after your customers like a little kid begs their mom for a new puppy. Keep asking. Then ask more. Beg if you have to. Never give up.
People underestimate the value of success. It's a light that people are drawn to. Close the deal so you can be that light for others.
---
▶️ DTube
▶️ IPFS