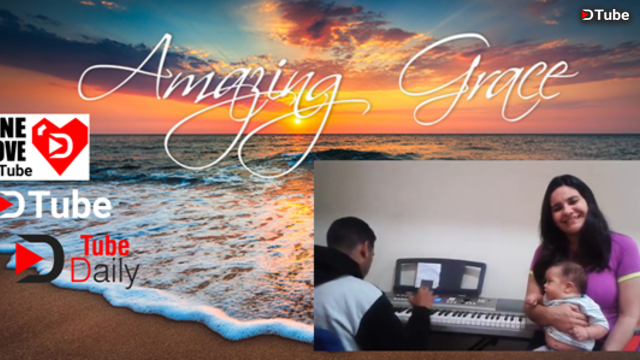 ---
How good it is to know that these kinds of cryptosocial initiatives are still going on, despite adversities. I am pleased to participate in this beautiful and persevering contest of musicians who adorn the Steemit platform.
Thanking the hard and constant work done week after week without fail by the hosts of #openmic @luzcypher and the distinguished jury qualifier.
This week I bring you a gospel music classic entitled "SUBLIME GRACE", translated into dozens of languages and inspired by the marvelous miracle of salvation, forgiveness, redemption and freedom that only the Messiah, Son of God, Jesus Christ the Lord of Lords can give.
This unique hymn was written by the Londoniense Jhon Newton published in 1779.
According to the Dictionary of American Hymnology "Amazing Grace" is John Newton's spiritual autobiography. Newton was born in 1725 in Wapping, a London district near the Thames. His father was a naval merchant who had been educated as a Catholic but showed sympathy for Protestant thought, while his mother was a devout independent Christian, not affiliated with the Anglican Church. From Newton's birth his mother wanted him to be a clergyman, but he died of tuberculosis when the boy was six years old. Newton was educated the rest of his childhood by a distant stepmother, while his father was at sea, and went to a boarding school, where he was mistreated. At the age of eleven he joined his father on a boat as an apprentice, but his incipient naval career would be marked from the beginning by his stubborn disobedience.

In his own words, Newton chose from a young age "a way of death, far from God and full of bad habits. As a sailor, he renounced his faith influenced by a companion with whom he discussed the book Characteristicks, by Anthony Ashley Cooper, 3rd Earl of Shaftesbury. In a series of letters he later wrote, he says:

«Like an unwary sailor leaving the harbor just before a storm, I gave up the hopes and consolations of the gospel when all other consolations were about to leave me."
.

John Newton, 1824.
His father forced him to join the Royal Navy for his continued disobedience but, after leaving his post several times, he finally deserted to visit Mary "Polly" Catlett, a friend of the family with whom he had fallen in love. After the public humiliation that his desertion entailed, he managed to be transferred to a slave ship, where he began his career as a slave trader.
Newton mocked authority openly and frequently by creating obscene poems and songs about the captain that became very popular with the crew, his frequent rebellion led him to be starved to death and imprisoned at sea and chained like the slaves they transported, and finally forced to work on a plantation in Sierra Leone, near the Sherbro River.After several months he considered staying in Sierra Leone, but his father intervened after receiving a letter from his son and was accidentally rescued by another ship. Newton agreed to embark back to the UK, although he declared that his only reason was Polly.

On board the Greyhound, Newton gained notoriety as the most blasphemous man in the crew. In a naval environment where sailors used frequent oaths, Newton was punished on many occasions not only for using the worst words the captain had ever heard, but for creating neologisms that exceeded his already foul vocabulary.In March 1748, while the Greyhound was in the North Atlantic, a violent storm hit the ship causing a sailor, located in a place where Newton had been just before, to fall overboard. After hours of water bilge work and believing they were going to capsize, Newton desperately asked the captain to let him try something, to which the officer agreed. In his own words, Newton said, "If this doesn't work, then may the Lord have mercy on us!".1415 He returned to the bomb and tied himself, along with another sailor, to it to prevent it from being washed away by the water. After an hour, he returned exhausted to the bridge, where he reflected on what had happened in the next eleven hours. Two weeks later, the battered ship and its hungry crew landed at Lough Swilly, Ireland.

The storm and subsequent events marked a before and after in Newton's life. In his own words, for weeks before the storm he had been reading The Christian's Pattern, a summary of the Imitation of Christ, written by Thomas of Kempis in the 15th century. The memory of his phrase during the storm began to obsess him and he reflected deeply on whether he was worthy of God's Grace or redeemable after not only abandoning the faith received, but after having directly opposed it, mocking other believers, ridiculing their rites and qualifying God as a myth. Eventually she became convinced that God had sent her a profound message and had begun to transform her life.

Newton's conversion, however, was not immediate. She announced her intention to marry Polly, whose family, though they knew her reputation, allowed her to write to her. She re-enlisted on a slave ship on her way to Africa and there continued to participate in the same activities as before, but without her usual language. His purpose of personal change was reinforced after a serious illness, but his attitude to slavery remained the same as that of his contemporaries and he continued to trade with people on several trips, some upstream in Africa, "now as captain", to sell slaves in the great ports of America. He married Polly in 1750 and participated in three more slave expeditions, but left the merchant navy thirty years after being offered the position of captain in a ship unrelated to the slave trade, apparently after suffering a new health crisis.

Article taken from: https://es.wikipedia.org/wiki/Amazing_Grace

Sublime Grace

Sublime grace of the Lord
That he saved an unhappy man
I was blind but I see today
Lost and He found me

His grace taught me to fear
My doubts drove away
Oh how precious it was to my being
When he transformed me

I'm free now, God saved me
And my chains He already broke
And as a river flows forgiveness
Sublime grace immense love

In the dangers or affliction
That I've had here
His grace always delivered me
And it will lead me happily.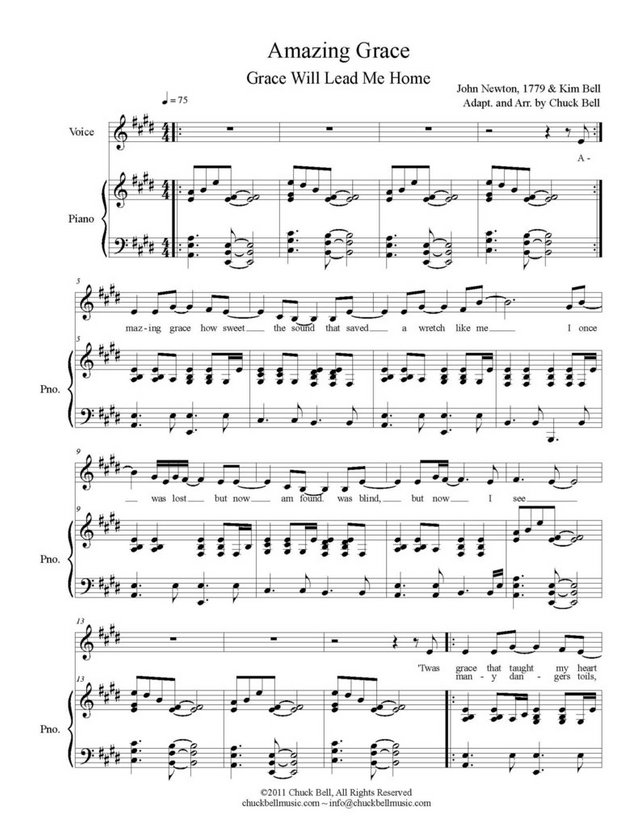 Enjoy the salvific content of this wonderful hymn.
---
▶️ DTube
▶️ IPFS