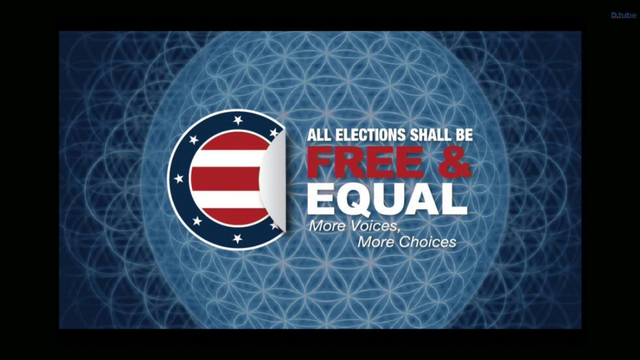 ---
Host Ernest Hancock interviews guest Christina Tobin (Founder and Chairman of FreeAndEqual.Org) update on censorship at UCLA Lawsuit; United We Stand Week in Fort Wayne, Indiana on April 27th, 2019...
Declare Your Independence with Ernest Hancock Radio Show: https://www.freedomsphoenix.com/Program-Page.htm?No=1
Show Archive Page: https://www.freedomsphoenix.com/Media/259807-2019-04-18-04-19-19-christina-tobin-karen-kwiatkowski-sterlin-lujan-mp3s.htm
Webpages
https://www.freedomsphoenix.com/
https://www.freedomsphoenix.com/Subjects/TopTech
http://pirateswithoutborders.com/
Christina Tobin
Founder and Chair of Free and Equal Elections Foundation and President and CEO of Free and Equal, Inc.
Webpages:
FreeAndEqual.Org
https://www.facebook.com/Christina-Tobin-525849220821918/
'All elections shall be Free & Equal'
More Voices, More Choices
Founder & Chair
Christina Tobin loves to fight the good fight… for US voters. She's making a career of helping honest, earnest candidates to run for political office.
In the course of her work, she decided to mainstream her efforts. In order to shift power back to individual voter, Tobin founded The Free & Equal Elections Foundation, a non-partisan, 501(c)3 non-profit organization, dedicated to creating open and transparent elections in 2008. Free and Equal is the platform that's helping thousands of citizens work together, who want to clean up politics for once and for all.
A bit of background about Tobin. In the 2004 presidential election, Tobin defended 29,000 signatures in Illinois for Ralph Nader when he ran as an independent, while still in college. Through this, she'd had a strong taste of politics. She wondered if there wasn't a better way.
In the same year, she successfully defended 39,000 signatures for Rich Whitney, the Green Party candidate for Illinois governor. In 2008, Tobin served as Ralph Nader's national ballot access coordinator, helping to collect more than 500,000 signatures to put Ralph Nader on the District of Columbia and 45 state ballots. She also organized the first alternatively-televised Presidential debate.
In 2010, Tobin organized a series of debates for Illinois gubernatorial candidates. Increasing visibility of alternative candidates by providing debate forums is part of Tobin's larger strategy to inspire passionate activists and young people, who do not have major money sources, to run for public office. By 2011, Tobin served as Vice President of Taxpayers United of America. Her work exposed big pension payouts in Illinois and 12 other states.
For the 2012 Presidential Election cycle, Tobin moderated a Presidential debate with media personality Larry King, broadcasting around the world by RT TV, Al-Jazeera and C-SPAN. The debates provided a venue for four U.S. presidential candidates from the Constitution, Green, Justice, and Libertarian parties to address topics that the mainstream debates left out. It became a Top 10 Trend on Twitter. (Tobin holds the record for moderating the most state and national election debates in the United States).
Currently, Tobin is organizing a follow-up to Free and Equal's successful 2014 United We Stand Festival. The UWS Fests will feature celebrities, leaders and speakers, musical performers, artists and intellectuals who are socially and politically engaged.
Tobin's dream has always been, to bring more voices and more choices to the U.S. political arena.
==========================
TOPICS FOR THE SHOW...
Free And Equal lawsuit against UCLA for stifling free speech
Dear Supporters,
It's quite a process to take on one of the largest universities in the country for free speech violations, and we are pleased to share the following update on our UCLA lawsuit. Thank you for your continued support as we proceed through the phases of this endeavor. We look forward to arbitration in June.
Photo from Berkeley Free Speech Movement 1968
UCLA Stifles Free Speech
Free And Equal Sues UCLA For Freedom Of Speech Violation
Free and Equal Elections Foundation, which has sponsored general election 2008, 2012 and 2016 Open Presidential debates for candidates excluded from the Commission on Presidential Debates (CPD), is seeking arbitration orders against UCLA for violating its right to free speech on university campuses.
Free and Equal had a contract with UCLA to use the Pauley Pavilion for its May 2014 United We Stand Concert. The concert's purpose was to expand interest in political participation among young people. The event included many big-name entertainers and thought leaders. Thousands of tickets were sold. Five days before the event, UCLA revoked the contract hours after they learned that Rock & Roll Hall of Famer Chuck D of Public Enemy was scheduled to speak to students on campus to help promote the event.
"Our group is Public Enemy and I've been talking to Christina Tobin for a while. Last year we were slated to play at UCLA's Pauley Pavilion, and I guess we all know what happened if you don't know just check in with Christina. We're down for the movement and the cause to wake people up,"stated Chuck D of Public Enemy at the 2015 United We Stand Concert.
Free and Equal is seeking up to $1 million in damages, prejudgment interest, attorneys' fees, and costs.
Free And Equal will host the fifth United We Stand (UWS) at Earth Week in Fort Wayne, IN on April 27th. This is the first stop of our UWS tour.
A Celebration of People, Planet and a chance to Prosper
April 27, 2019 6:00 pm to 11:00 pm
TekVenture Makerspace
1400 Griffin St, Fort Wayne, IN 46803
For information contact Rowan F Greene 260-442-5538
Hello friends and supporters of Free and Equal. You are cordially invited to our latest United We Stand concert. We are celebrating Earth Day in Fort Wayne, Indiana in cooperation with Heartland Communities. If you would like to participate–either as talent, production crew, sponsor, or as a spectator–please reply to this email.
The United We Stand Concert, created by a national nonprofit organization Free and Equal Elections, is a music festival designed to connect students and youth with thought leaders and musicians of our time. The organizers at Free and Equal Elections are bringing nationally popular bands and Heartland Communities is bringing local bands to Fort Wayne for this free event. Music will be interspersed with cutting edge thought leaders speaking on important issues we face today and in the future.
This April 22, 2019 is the 49th Earth Day with events in nearly 200 countries. Fort Wayne will celebrate an entire Earth Week from Monday April 22 through Tuesday the 30th with many events and opportunities to engage the public, private, and grassroots sectors in bringing a message of environmental awareness to Northeast Indiana. Heartland Communities hosts a calendar of community events that make Earth Week a united Fort Wayne-wide campaign. Fort Wayne Mayor Tom Henry will open the first event on April 22 with a proclamation declaring Earth Week 2019!
About Heartland Communities
The mission of the Stewards of Heartland Communities is to build communities that are economically, culturally, and environmentally restorative through community and economic development activities. We provide training and educational programs, worker collective entrepreneurship facilitation, cooperative systems, and community economics education.
Founded in 1998, the Heartland Communities is a 501c3 nonprofit organization. Learn more about their current work in a recent article published by Living Fort Wayne magazine.
---
▶️ DTube
▶️ IPFS