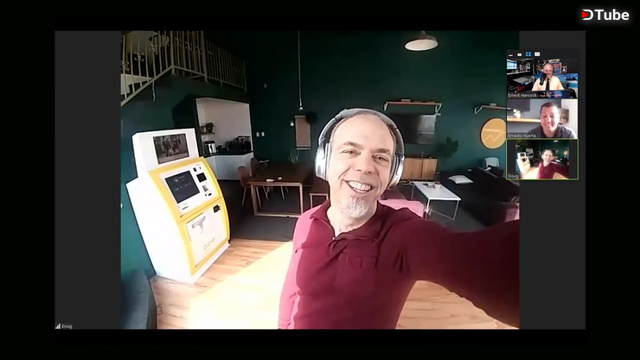 ---
Host Ernest Hancock interviews guests Doug Scribner (Vault Logic) and Ernest Huertas (Crypto Space US) on the installation of the new vault Logic Smart ATM's
Declare Your Independence with Ernest Hancock Radio Show: https://www.freedomsphoenix.com/Program-Page.htm?No=1
Show Archive Page: https://www.freedomsphoenix.com/Media/257103-2019-03-05-03-05-19-bill-mar-doug-scribner-ernesto-huertas-listen.htm
Doug Scribner and Ernesto Huertas
Doug Scribner is founder, and acting CEO of Vault Logic, the first multi-purpose ATM and BTM combined that also offers future services such as bill pay and gift card sales using cash. The ATM is like a 600 pound giant smartphone that allows any compliant third party to build apps to access cash in and cash abilities.
Vault Logic is pioneering the concept of Cash as a Service and helping the un and underbanked and anyone who prefers using trusted cash rails.
Ernesto Huerta is the Founder of Cryptospace, an over the counter exchange that offers a customized trading experience through their brick and mortar lounge in Los Angeles and Smart ATMs that will be popping up around the country.
cryptospaceus.com
==============================
Vault Logic
SMART ATMs
For Dynamic Cash Markets
Vault Logic multi-crypto Smart ATMs offer both traditional ATM and BTM (Bitcoin ATM) services. Additionally, these cash vaulting systems have the capacity for a wide range of custom CaaS (Cash-as-a-Service) applications.
main-image
Real-World Utility For Everyday Life
What Can People Do Using Vault Logic Smart ATMs?
Through our network of Smart ATMs, customers will be able to get cash, buy and sell many cryptocurrencies and soon accomplish everyday-tasks like paying bills and topping off cell phones. More of these cash services will be available through our CashApps Store built in partnership with our app development community.
Buy & Sell many cryptocurrencies
Traditional ATM Cash Dispenser
Buy Cell Phone Minutes
Bill pay and more coming soon
Business Benefits
As part of our roadmap, businesses will benefit from cash vaulting and the ability to offer more services
Cash as a Service
By deploying a cash management platform on the blockchain, Money Service Businesses (MSBs) are able to access new customers with high-value services including the under-banked
Balancing
Revolutionary cash balancing system dynamically adjusts the cost of cash or crypto pricing, incentivizing customers, thus reducing headaches, time and cost of moving cash
Are you interested in integrating your cash application into our Cash-as-a-Service platform? Connect with us
Do you have a clever idea for a specific app that can take advantage of our Smart ATM network?
Contact us and we will provide all the tools needed to deploy your products on our system.
The Future of Smart ATM Accessibility
The Vault Logic Mobile App
Once launched the app will help people:
-Easily find Smart ATMs across the globe
-Quickly access a wide variety of valuable cash applications
-Log in fast and securely at the Smart ATM
-Take advantage of cash balancing incentives and special pricing
-Optimize their buy / sell activities on multiple cryptocurrencies
=========================================
Locations
Name
Address
Exposé 5520 Kearny Villa Rd
San Diego, CA 92123
ATL BTC Embassy 1372 W Peachtree St NE
Atlanta, GA 30309
Crypto Space San Pedro 403 W 6th Street
San Pedro, CA 90731
Real World/1 Minneapolis 475 Cleveland Ave N, St
Paul, MN 55104
Node San Francisco 1011 Kearny Street
San Fransisco, CA 94133
100State Madison 316 W. Washington Ave
Suite 675
Madison, WI 53703
The Kiln, Utah 2000 Ashton Blvd #300,
Lehi, UT 84043
West Hollywood Mantle Headquarters
====================================================
====================================================
Cryptospace-type.png
Hey There!
Welcome to Cryptospace, a cryptocurrency support desk and an official Bitcoin Cash lounge providing blockchain and cryptocurrency fans education and services needed to encourage the adoption of digital currencies.
Customers can take advantage of our buy/sell OTC services and asset protection services in person at our San Pedro lounge and through our Cryptospace Smart ATMs throughout the region.
Smart ATM
Convenient and secure way to buy and sell at our self-service Smart ATMs.
Buy+sell
A safe, in-person way to buy and sell a variety of cryptocurrencies.
Bitcoin Cash Lounge
Cryptospace San Pedro is proud to be an official Bitcoin Cash Lounge and the preferred venue for local events.
CRYPTOSPACE SMART ATM'S
Convenience + Security
Buy and sell a variety of cryptocurrency coins at one of our Cryptospace Smart ATMs throughout the region. Cryptospace Smart ATMs are the first of their kind to incentivize customers to buy and sell cryptocurrencies with built-in incentives.
---
▶️ DTube
▶️ IPFS