DTube's Upload gets upgraded
While Steem was busy splitting into two different networks, DTube was working hard to get ready for the full launch on May 10th.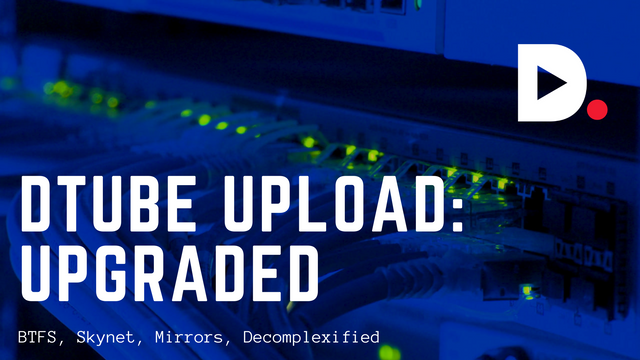 Make it easier to understand
We just patched d.tube and you will be able to discover a new upload process, that now correctly guides you and explains to you all the different options that are available to get your videos files online before publishing to the blockchain. Ever been confused by DTube's upload in the past? This update aims to fix this long running complaint from our users.
BTFS and Skynet support
Starting from today, you can start using BTFS or Skynet as a decentralized file storage for your videos. DTube file upload has been using BTFS as the default storage protocol for a couple of weeks without issues. DTube is also now running a 48TB BTFS gateway on btfs.d.tube
Add Videos directly from hashes
One thing that has been lacking since the beggining, was the ability to add your video directly from existing hashes on IPFS. You can now do that by using the 'Peer-to-peer' option in the first step of the new upload page. You will need to manually enter hashes of your source video, and optionally of the sub-quality files (720p, 480p, etc).
This feature is meant as a convenience tool for experienced creators with large libraries that they are willing to self-host and self-encode. By publishing a video on DTube this way, you don't even need to upload your file to us.
File upload stability improved
We know many people got discouraged with using our DTube file upload since we introduced the ability to link from third-party providers, and the fact that we have to regularly delete old videos to make space on our disks.
In order to be able to hold videos for longer, and keep providing a simple upload mechanism, we made some adjustments and decided to limit encoding to videos of maximum 20 minutes. Our file upload infrastructure has been running very smoothly since the changes, we invite you to give it another shot.
Mirrors feature
Since DTube now allows you to add so many video sources (IPFS, BTFS, Skynet, Youtube, Twitch, Instagram, etc), it makes sense to be able to include multiple sources to the same video. After uploading a first video source, just click on the 'Add Video' button again and try to combine different sources.
If you care about decentralization, and making your videos resilient, it's a powerful option. By default, DTube's player will try to load your video using a decentralized protocol, and will use third party providers only as a fallback.
---
Token Sale still continues
The token sale for DTube coin still continues. Visit https://token.d.tube to learn everything about upcoming DTube economy and Buy DTCs.
Need support?
For support from the team and the community, comment on this post or use:
The DTube team
https://d.tube