DTube Fundraising's experience with VCs (and our next move…)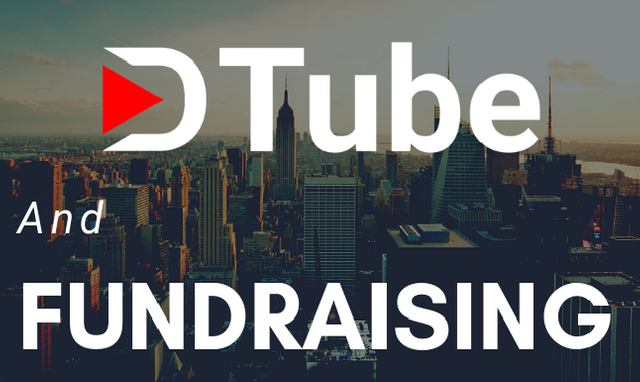 Hello Steemians,
Many people already knew about it, we've been working hard since last August and managing a fundraising campaign! On this post, we will give you a feedback about our experience with raising funds the "good old way", i.e selling corporate equity to Venture Capitalists.
Why raising funds?
First question obviously is what was the purpose of raising funds while we have the support from @ned from SteemIt Inc with a 2 Million Steem Power delegation.
Well, two reasons:
First we anticipated from the beginning of the year 2018 that the investor's frenzy on crypto markets, creating a rocket powered increase in market value for Steem (and all other cryptos) would not last forever. In the current bear markets, our income is very small as we only take small beneficiary rewards and never use the votes to 'pay' our employees.
Secondly, we have been looking for a corporate bank account, in order to be able to pay for services in fiat. And guess what? This is almost impossible for us.
Below is just one of several examples. We got in touch with a bank from California who openly accepts to manage bank accounts for crypto businesses. Below their reply:

1 Million US Dollars to "due diligence", are you serious ??
Why not ICO?
We never wanted to ICO because we've always wanted to deliver a product first, then establish a clear development plan and then look for financing options. DTube's journey to success is a long one and we should not rush.
By respect to our community, we really did not want to associate DTube project to token events that had been generally used for scams or short term profits. All ICOs weren't bad of course, but it was our take.
Secondly, a social distribution model like steem doesn't really fit financial market investors classic expectations. In fact, anyone holding tokens in such a model needs to "play the game" to protect and hopefully increase their stake. Investors aren't used to playing social games.
However, we really like the idea of an Airdrop. In DTubes case, it would make sense as we already have a strong user base. In addition, one of DTube's main goals is to operate fair value distribution to all its users. That means we would prefer not to alter the distribution right from the start by selling utility tokens to wealthy individuals who will hence hold large voting power.
That said, airdropping is necessary to bootstrap a DTube economy but wont directly help the venture to fund its development.
Our experience with VCs
So there the hard stuff starts. @heimindanger and @macron have been on so many expeditions, events, pitches, due diligences, 5mins pitches, 10mins pitches, 10mins Q&A. In the US, in Switzerland, in London, in Paris:
Accelerators: Crypto Valley Association (Zug), YCombinator (San Francisco), Chain Accelerator (Paris)
Generalist VCs: Thiel Capital, Global Founders Capital, Serena Capital, Isai Capital, XAnge, Kima Ventures,
VCs specialized in Blockchain: KR1, Outlier Ventures, SVK Crypto, NKB Group, Fabric Ventures, EOS Global, Polychain Capital, Blue Yard Capital, PROFounders Capital, Trecento Blockchain Capital, Federman Capital
Finally, we went through the whole due diligence process with Blockchain Valley Ventures in Zurich but ultimately without success.
Why it didn't work (yet…)
It is very important to understand a few things about VCs:
FIRST is difficult: the hardest part is to convince the first investor, then it gets much easier to lever the FOMO feeling with the others.
LEAD ROUND: When it is the first time a venture looks to raise funds by selling corporate equity, investors who want to invest need to "lead the round". That means they will have to align enough resources to go through a full due diligence process to gain enough confidence in the fundamentals of the project and ultimately provide with a full YES. Even though most VCs say they do lead rounds, in reality a very small portion of VCs actually have the resources and the expertise to go through it.
SECTOR: some VCs are sector agnostic (largest ones in general), but most of them are focused on a sector. There is no use targeting the wrong guys.
INVESTMENT THESIS: All VCs have their own assessment of the stage and the state of a market. They will invest only in projects that fit in.
So what is in VCs minds about DApps ?
First, I recommend not to waste time pitching to investors who have not yet done any investment in blockchain related businesses. We did a lot, but it feels very much like talking to a brick wall.
Secondly, you should get information on which VCs are really leading a seed round investment, all others will source your project but won't ever take the steps to invest in your project.
Finally, specialized VCs in the blockchain space have, for almost 90% of them, an investment thesis focused on "infrastructure" as they name it. That is they are seeking to invest in projects that set the grounds for the future decentralized web: blockchains, protocols, infrastructures, core low-layer technologies.
For most of them, the time for DApps has not come yet
I actually came to realize that these people didn't know much about Steem and all its ecosystem. They were very impressed while discovering there were more than 400 DApps running on STEEM, that DTube has more than X daily unique visitors, etc. Even the biggest platform listing DApps, https://dappradar.com/, doesn't even have a proper section for STEEM!
There are too few people talking about our community outside the Steem ecosystem!
OUR NEXT MOVE
In spite of our lack of funds, we decided to still go ahead and turn DTube into what we want it to be. It's finally time to introduce our new team members:
@steeminator is in charge of community relations since early 2018 and will lead social media management
@macron joined the team in March 2018 to lead business development and fundraising (he also wrote this article)
@mercussio joined last month to head marketing
@hetmasteen will be helping on structuring acquisition strategy and project coordination
@albanlaurent is a designer, he is working on a new version for the DTube logo
We are still looking for more team members, for the following positions:
UI / UX: DTube will go through a major redesign of all UIs (web + official mobile apps)
Desktop app developer: we need a developer to work on our future desktop app to help creators manage their uploads and increase decentralization of file storage
Social networks and community relations: we will claim accounts and need influencers to help us spread the good word and design marketing collateral
If you are skilled, have free time, and are willing to work for a free and open source project, please either send an application to [email protected] or contact us on discord.gg/dtube
In the next few months, we plan to launch DTube's mobile apps and drastically evolve DTube's core features (more about that soon).
On the fundraising side, after this experience with VCs, we are assessing the opportunity to launch a token generation event. We still are considering multiple options: Airdrop with private sale, STO, IEO, donation, crowdfunding, etc... We are talking to various specialists in the field but the most important for us is to hear the take of our community, so please give us your opinion in the comments!
---