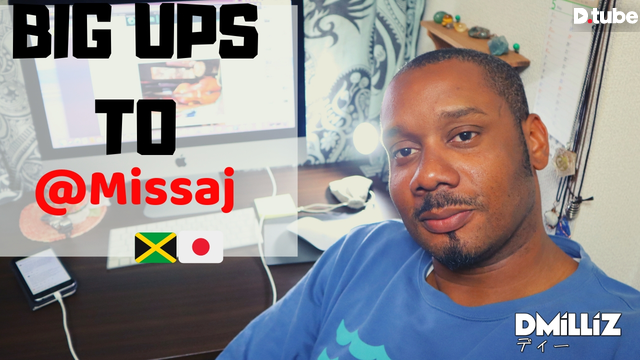 ---
There are many people I have made join steem. Many have become inactive, many couldn't bother to take the time to learn what was going on, even though I was there open to answer any questions. So when I see my friend I introduced to steem taking time to learn and explore the blockchain, using various Dapps, taking part in #seven77 and just doing his thing here, I just wanna BIG him up and encourage him to keep on going. @missaj and I are Jamaicans in Japan, he lives in Kobe and I live in Gunma in the Kanto area so we don't get to see each other. These days our convos take place on or around steem mostly.
@Missaj is a really good singer and recently he has started posting his rehearsals with his band as well as live performance recordings on dtube. The name of the band he is in is called Guava Dub and they mainly cover roots reggae. @missaj is still new to vlogging so I would love the dtube/steem community go over and show him some love in any form you see fit. Comments, upvotes, feedback etc.
I shall embed his latest rehearsal vlog below. The quality of the video isn't that great, but keep in mind he is learning like we all are. But his cover of Bob Marley's - Get up Stand Up is excellent. Check it out, follow him and support this great steemian. Blessings.
The link to his Bob Marley cover :