PhotoscapeX Photo Editor~Free Version Tutorial Basic Overview Pt. 1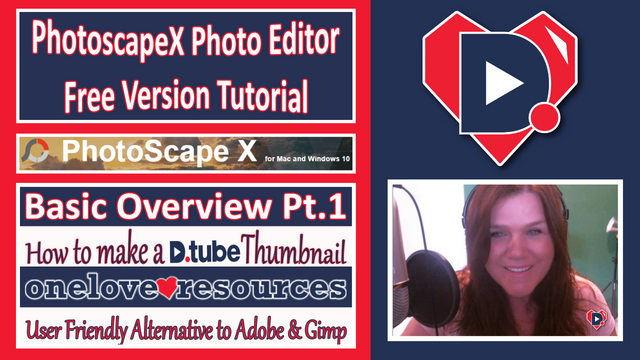 ---
PhotoscapeX Photo Editor
https://about.d.tube/mediakit.html
Free Version Tutorial Basic Overview Pt. 1
How to Make a D.tube Thumbnail
Brought to you courtesy of: onelove♥resources from the @onelovedtube community.
This is a user friendly alternative to Adobe programs or gimp. This program is intended for Windows or Mac users for use on a desktop or laptop.
There is less of a learning curve with this software. It is downloadable which means it's not required to use internet access after the initial installation of it to your computer. Although programs like Canva are very useful, a program you can access without internet connection can for some be priceless.
Adobe programs can be very costly and some programs like gimp take long periods of time and practice to become proficient with.
PhotoscapeX may not be a first choice for some. But it is a useful tool for beginners, non-computer savvy people and anyone that prefers the usability of this program.
This program dates back to 2001 so there has been lots of development put into it.
It offers many features including background removal, collages, gif maker, batch editing, photo enhancements, masks and layers.
If you would like to see more tutorials about features in this program be sure to comment and let me know!
https://oneloved.tube/one-love-resources/
We are working behind the scenes building a resource project to bring more resources soon to the Steem and Dtube Community.
More easy to access resources will be announced in the very near future.
Join our discord with any questions or suggestions: https://discord.gg/nEfNgVP
Music Source: Sirius~ Sascha-ende
---
▶️ DTube
▶️ IPFS