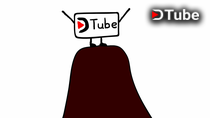 ---
Hey guys,
Welcome to my first self created video for my dtube channel. I will be taking a different approch from other Dtubers.
I noticed that there is not a single animated channel on Dtube.
There are some channels, but either way they are stolen videos, poorly created or lack of story.
So from now on i will fix that for Dtube. I know i can earn much more making funny animations, story animations on youtube
but not every thing is about money.
I love decentralization and hope to support the community as much as i can.
I want to spread the word about Dtube so i will be posting about Dtube on every social media account i can find and i hope you will too.
I've seen many Dtubers posting there content only on Dtube. That is not the best way to promote your videos or this platform.
Please post your amazing videos on other video sharing platforms and mention dtube in every video.
I'm not a member of Dtube team or steemit team. I just want to see Dtube rise above all the other video sharing platforms.
Thank you very much for watching! bye.
---
▶️ DTube
▶️ IPFS