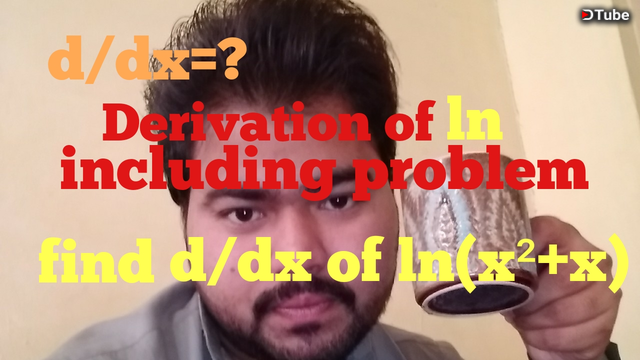 ---
In this video we learn that how to find d/dx of ln(x²+x) .
We will apply formula as d/dx of lnx is 1/x further derivative of x.
As d/dx of lnx is 1/x so in the same way lets find d/dx of ln(x²+x).
Solution:
d/dx ln(x²+x)
=1/x²+x (d/dx x²+x)
=1/x²+x (2x+1)
=2x+1/x²+x.
This is our answer.
About me:
I am a student of physics and expert in mathematics. I love solving math questions. I am posting daily 1 @dtube video about mathematics.
Moreover i am helping my dad in my spare time.
If you like my work then give an upvote or a resteem.
I am a member of @dtube family which is currently known as linkseven77 .
I am also a member of #steemnurse which is a discord community.
Mentions: @devann ! Thanks for encouraging.
I would like to mention @nuthman @chireerocks ,@madushanka ,@jozef230 , @freecrypto .
Special thanks to @nuthman and @nathanmars .
Follow me at twitter
https://mobile.twitter.com/coolguy2224
Follow me at facebook
https://mobile.facebook.com/atif.jabbar.184
Follow me at telegram
@coolguy222
---
▶️ DTube
▶️ IPFS