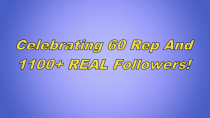 ---
Hi Steemians!
I made this video for a couple of reasons.
First and foremost, I wanted to celebrate 2 milestones that I hit on Steemit since I joined in October of 2016.
Second, I wanted to discuss a disturbing and disappointing trend that I have been noticing on SteemIt as of the last few months.
I'm wondering if SteemIt has become "pay to play."
I've noticed that it's very difficult to get noticed nowadays, even when you put out decent content.
Yet, it seems there are a lot of Steemians getting noticed and taking large rewards from simply posting an image or a meme. I don't think there's anything wrong with posting an image or a meme or two here and there, but I don't think that should be the only type of content a person uploads.
I don't really like the fact that I have to buy resteems just to get a few votes. It feels like cheating, and I promised myself I would never do it. However, it seems like that's the only way to get some eyes on your content.
Don't get me wrong. I'm not about the money. I enjoy blogging on SteemIt, and I do feel a sense of accomplishment when I post. That in itself is a great reward. However, it doesn't exactly feel good when you put a lot of work into an article and not get any monetary reward at all. After all, we are putting our time in, and so it would be nice to at least get a tiny bit of compensation.
What do you all think?
Drop a comment and let me know!
---
▶️ DTube
▶️ IPFS