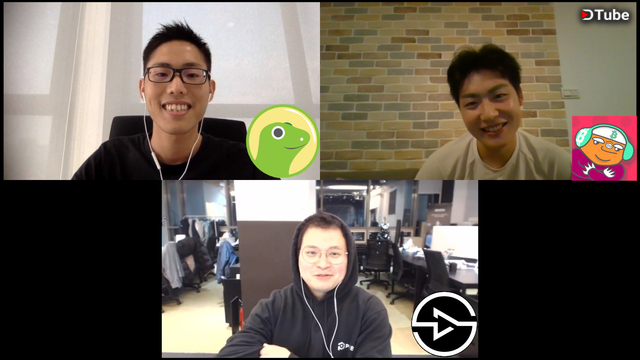 ---
CoinGecko would like to introduce the first episode of the Crypto In Asia Show!
This is an inaugural and experimental show where thought leaders come together to share knowledge and information with each other.
As the blockchain and cryptocurrency industry is still relatively nascent, there are often misconceptions and confusion when it comes to understanding what is happening on the regional/national scale unless you are informed by someone "in the area". This is the main objective for Crypto In Asia, where developers, influencers and thought leaders from different countries come together and discuss what's happening on the ground.
This first episode features the following hosts:
See Eun from Nonce Co-working Space Korea, who also manages Studio Decentral - The first Korean blockchain/cryptocurrency Youtube channel.
Koji Higashi, a Crypto Thought Leader in Japan who runs the Youtube Channel Bitcoiner Hanseikai.
Bobby Ong, Co-Founder of @CoinGecko, a crypto data aggregator tracking over 4,000 cryptocurrencies from over 300 exchanges.
The discussion ranges from regulation in Korea, Japan and Malaysia to development of cryptocurrency exchanges as well as trader sentiments in Asia among many other talking points.
You can fast forward to the timestamp below to quickly jump to one of the topics discussed:
5:00 - Crypto Exchange Restructuring and Diversification in Asia
9:21 - Rise and fall of new Exchanges, the loyalty of traders and Trans-fee mining
12:21 - Exchange coin listing requirements and the legality of ICOs in Korea
19:49 - Relationship between Exchanges and Coins
22:57 - Cosmos Project and Tradable IOUs
25:00 - Privacy Coins in Asia
27:29 - Development of Blockchain Games in Korea
31:47 - Kakao's Involvement in the Crypto Space
33:25 - Software, Hardware Wallets and Cryptocurrency Custody
44:00 - Crypto Regulation and Legality across Asia
55:29 - Blockchain Associations & Government Lobbying
1:01:09 - Non-Fungible Tokens
1:03:21 - Blockchain-based Gaming Apps
1:07:30 - Crypto Trends in Malaysia
We are looking for feedback and comments! Tell us what you think about this show and what discussions you are interested to see on Crypto In Asia. Share with us some insights and thoughts you picked up from the show and discuss your opinions in the comments section below.
---
▶️ DTube
▶️ IPFS