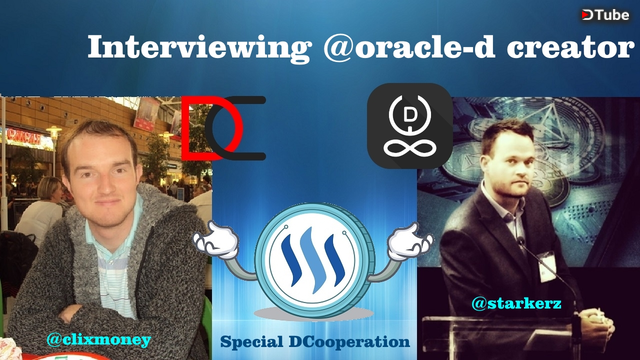 ---
In this video I interviewed @starkerz , the creator of @oracle-d.
Check the website here : https://oracle-d.com
After interviewing him, I realized how much @oracle-d team is doing for steem blockchain.
First of all, they have @oracle-d.tasks to reward steemians for doing tasks.
The also have @dapplovers to support applications built on steem blockchain.
As well, there is @steem.ninja to make onboarding on steem even easier.
Check the website here : https://steem.ninja/
They work as well on Football Academy project @agfacademy.
Check the website here : https://www.agfacademy.com/
They also support #promo-steem tag to promote steem to the world.
And they are doing a lot of conferences worldwide to spread steem even more.
Check all their presentations on their youtube channel here : Oracle-d Youtube Channel
Enjoy watching the interview.
@starkerz explained everything about the project in the video.
Vote for @oracle-d as witness here : https://steemit.com/~witnesses
---
---
---
You are always welcome to join our community @dcooperation. ☺
---
---
---

Here is the link to our discord server : https://discord.gg/UMAMYkP
You can delegate to @dcooperation here : https://steembottracker.com/delegation.html
Subscribe to my youtube channel here
Subscribe to the channel of our community DCooperation

Watch the youtube version here :