558: Max Keller & Glenn Stromberg: How To Build Wealth Through Mobile Home Investments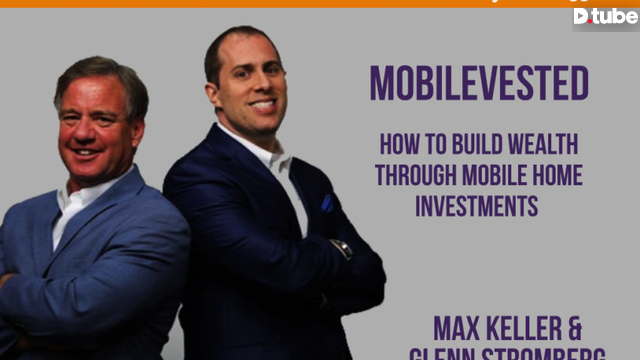 ---
My guests in this episode are Max Keller & Glenn Stromberg.
Max began his real estate career with single-family residential properties, wholesaling, completing fix and flip rehabs, and acquiring rentals. After completing over 100 deals in multiple states, he looked for a way to more easily scale his real estate business and found mobile homes. Once Max started working with mobile homes, he was hooked. Almost every challenge that was present in the single-family residential world of investing was either absent or greatly reduced in mobile home investing.
Glenn began his career in real estate in 1982, quickly becoming a top sales manager for a mobile home dealership. Over his 37 years in the mobile home industry, he developed mobile home subdivisions, owned a mobile home park, owned and operated mobile home sales centers and bought, sold, and leased single-family homes. Today, Glenn invests in his most profitable venture to date, double-wide mobile homes on land. Glenn has completed thousands of mobile home deals in his career and is excited to have the opportunity to share his legacy and valuable knowledge with you.
Max, and Glenn, and their company, Mobile Vested, have a goal of helping over 10,000 new and existing mobile home investors.
Connect With Us:
Website: https://www.producerswealth.com/home
Podcast: http://cashflowninja.com
Webinar: https://www.yourownbankingsystem.com/
Work With Us: https://www.producerswealth.com/appli...
Facebook: https://www.facebook.com/cashflowninja/
Twitter: https://twitter.com/mclaubscher
Instagram: https://www.instagram.com/thecashflow...
Linkedin: https://www.linkedin.com/in/mclaubscher/
Youtube: http://www.youtube.com/c/Cashflowninja
Bitchute: https://www.bitchute.com/channel/cash...
Steemit: https://steemit.com/@cashflowninja
Dtube:
Gab: https://gab.ai/cashflowninja
Minds: https://www.minds.com/cashflowninja
Biggerpockets: https://www.biggerpockets.com/users/m...
Patreon: https://www.patreon.com/cashflowninja
Google: https://plus.google.com/+Cashflowninja
Medium: https://medium.com/@mclaubscher
Pinterest: https://www.pinterest.com/mclaubscher...
Meetup: https://www.meetup.com/members/12909189/
Tumblr: https://mclaubscher.tumblr.com
If you enjoy Dave Ramsey, Robert Kiyosaki, Grant Cardone, Gary Vee, Graham Stephan, Meet Kevin, Ryan Scribner, Replace Your Mortgage, Project Life Mastery, Russel Brunson, Alex Becker, Tanner J Fox, Refusing to Settle, Dan Lok, Jeff Rose, Tai Lopez, Bigger Pockets, or Pat Flynn, you will love the Cashflow Ninja! Be sure to subscribe!
#business #investing #money #wealth #infinitebanking #familybanking #cashflowbanking #replaceyourmortgage #bankonyourself #cashflowbanking #wholelifeinsurance #privatereservestrategy #richdad
---
▶️ DTube
▶️ IPFS