559: Andrew Schena: What You Need To Know About The Boston Real Estate Market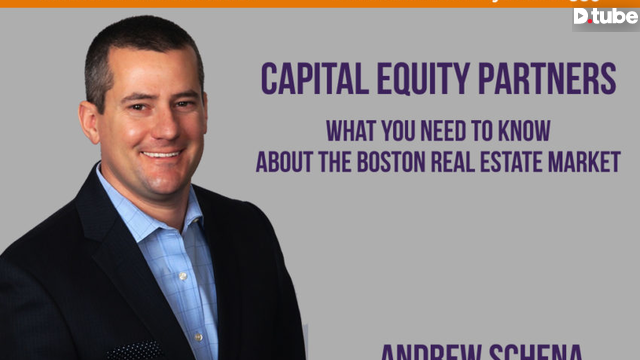 ---
My guest in this episode is Andrew Schena. Andrew brings an in-depth knowledge of real estate, investment syndication and business operations as a result of his 18 years experience in the real estate industry. As a founding member of Capital Equity Partners, LLC, Andrew has spent the past 8 years sourcing, analyzing, structuring, syndicating and operating both development and cash-flowing asset strategies. Having raised over $10 Million of private equity, he currently manages over $10.5 Million of development projects and $5.5 Million in multi-family cash flowing assets. He and his partners have developed and sold over $23 Million dollars of Boston real estate over the past 8 years. He is passionate about real estate, personal and professional growth, financial education, mindset, and his family. Andrew graduated from Quinnipiac University in 1999 and lives in Blackstone, MA with his wife Erin and their two daughters ages 9 and 6. If you have not checked out my new podcast, Cashflow Investing Secrets, I would highly recommend it- it is a shorter show, 10 minutes or less where I share one concept and or idea at a time what I have learned from interviewing over 550 Cashflow Ninjas. You can listen to the show on your favorite podcast, video and live streaming platforms.
Connect With Us:
Website: https://www.producerswealth.com/home
Podcast: http://cashflowninja.com
Webinar: https://www.yourownbankingsystem.com/
Work With Us: https://www.producerswealth.com/appli...
Facebook: https://www.facebook.com/cashflowninja/
Twitter: https://twitter.com/mclaubscher
Instagram: https://www.instagram.com/thecashflow...
Linkedin: https://www.linkedin.com/in/mclaubscher/
Youtube: http://www.youtube.com/c/Cashflowninja
Bitchute: https://www.bitchute.com/channel/cash...
Steemit: https://steemit.com/@cashflowninja
Dtube:
Gab: https://gab.ai/cashflowninja
Minds: https://www.minds.com/cashflowninja
Biggerpockets: https://www.biggerpockets.com/users/m...
Patreon: https://www.patreon.com/cashflowninja
Google: https://plus.google.com/+Cashflowninja
Medium: https://medium.com/@mclaubscher
Pinterest: https://www.pinterest.com/mclaubscher...
Meetup: https://www.meetup.com/members/12909189/
Tumblr: https://mclaubscher.tumblr.com
If you enjoy Dave Ramsey, Robert Kiyosaki, Grant Cardone, Gary Vee, Graham Stephan, Meet Kevin, Ryan Scribner, Replace Your Mortgage, Project Life Mastery, Russel Brunson, Alex Becker, Tanner J Fox, Refusing to Settle, Dan Lok, Jeff Rose, Tai Lopez, Bigger Pockets, or Pat Flynn, you will love the Cashflow Ninja! Be sure to subscribe!
#business #investing #money #wealth #infinitebanking #familybanking #cashflowbanking #replaceyourmortgage #bankonyourself #cashflowbanking #wholelifeinsurance #privatereservestrategy #richdad
---
▶️ DTube
▶️ IPFS