560: Hoan Thai: Why You Should Choose Assets Over Hours To Escape Your 9 To 5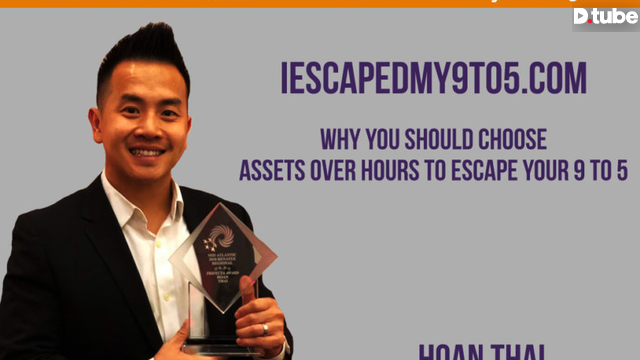 ---
My guest in this interview is Hoan Thai. Hoan is a real estate investor, loan specialist, and educator. He has bought and sold tons of properties using creative acquisition strategies. Hoan is also the founder of iescapedmy9to5.com. He got into real estate in 2009 after he read the book Rich Dad Poor Dad. Hoan has a degree in mechanical engineering and a master's in financial engineering and uses his background to view real estate from a unique perspective. He's created financial freedom using real estate and wants to show others how to do the same thing.
Connect With Us:
Website: https://www.producerswealth.com/home
Podcast: http://cashflowninja.com
Webinar: https://www.yourownbankingsystem.com/
Work With Us: https://www.producerswealth.com/appli...
Facebook: https://www.facebook.com/cashflowninja/
Twitter: https://twitter.com/mclaubscher
Instagram: https://www.instagram.com/thecashflow...
Linkedin: https://www.linkedin.com/in/mclaubscher/
Youtube: http://www.youtube.com/c/Cashflowninja
Bitchute: https://www.bitchute.com/channel/cash...
Steemit: https://steemit.com/@cashflowninja
Dtube:
Gab: https://gab.ai/cashflowninja
Minds: https://www.minds.com/cashflowninja
Biggerpockets: https://www.biggerpockets.com/users/m...
Patreon: https://www.patreon.com/cashflowninja
Google: https://plus.google.com/+Cashflowninja
Medium: https://medium.com/@mclaubscher
Pinterest: https://www.pinterest.com/mclaubscher...
Meetup: https://www.meetup.com/members/12909189/
Tumblr: https://mclaubscher.tumblr.com
If you enjoy Dave Ramsey, Robert Kiyosaki, Grant Cardone, Gary Vee, Graham Stephan, Meet Kevin, Ryan Scribner, Replace Your Mortgage, Project Life Mastery, Russel Brunson, Alex Becker, Tanner J Fox, Refusing to Settle, Dan Lok, Jeff Rose, Tai Lopez, Bigger Pockets, or Pat Flynn, you will love the Cashflow Ninja! Be sure to subscribe!
#business #investing #money #wealth #infinitebanking #familybanking #cashflowbanking #replaceyourmortgage #bankonyourself #cashflowbanking #wholelifeinsurance #privatereservestrategy #richdad
---
▶️ DTube
▶️ IPFS