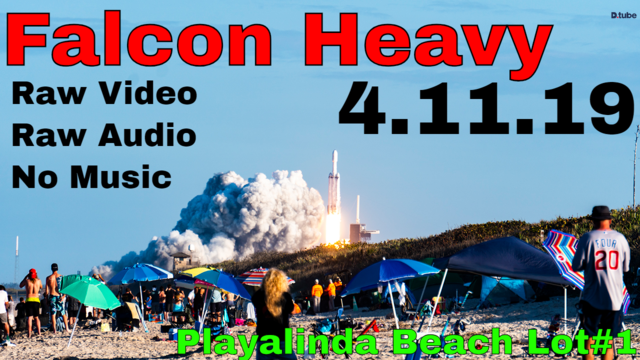 ---
Raw video and sound from Playalinda Beach - Canaveral National Seashore for the 4.11.19 Falcon Heavy Launch. Video and sound was captured using a pair of Sony Camera and Rhode microphones. This video is just chopped edited with 0 post production to ensure what you see is what was captured from the camera's on Auto/Default settings.
Location is at beach entrance of Playalinda Beach access Lot #1, right at the base of the entrance to the beach. We opted to shoot behind the primary camera line to get the perspective for the average enthusiast viewer. Additionally trying to capture real audio and sound using a Rode Shotgun microphone of a glimpse of what you would hear.
Equipment Used:
Sony A6500 Camera - https://amzn.to/2XeESIz
Sony E-Mount 55-210mm - https://amzn.to/2Dc8cYu
Sony AX100i Camera - https://amzn.to/2G7Uu9I
Manfrotto MT055XPRO3 3-Section Aluminium Tripod with MVH502AH Professional Fluid Video Head (how i tracked the rocket while maxed zoomed in) - https://amzn.to/2X4TN7S
Rode Shotgun Microphone - https://amzn.to/2IfucpB
===================================================
Video brought to you by BitsBeTrippin
===================================================
To support BBT in content and future events:
Ravencoin = RMR8YEZr1BQ3FVhfXmxvNZ9ErSdDgcwvcj
Bitcoin = 1QHADdYwmMgVoaYqqY3SE8ummr4euHqzUv
Litecoin = LVemKU6GTccpCSaLp4JwXPXbDT1RBbDWbQ
Ethereum = 0xF897EaFdb787AcD4Da5e2EB5003E42dc1Ef86d39
ETC= 0x89b455cfd5adb8ba4a69fd6bd082b3d61efe160f
Dash = Xrk5429K5GUHkQJkDcUQ1ZtwSGwwRstxK4
Doge = DJeTVqyNVsd493iyWzbuUM11xDwsRAtzLy
Zcash = t1KgQi4aAKJYh6QJ1rFxczWv9gqdtXPDYKh
We are not a fly by night channel, have been serving the space since early 2013!
Paypal: paypal.me/bitsbetrippin
-~--~~~--~-
If you choose to mail us a product/gear.
BitsBeTrippin
P.O. BOX 508
Troy, IL 62294
United States
ALL Amazon links are affiliate links and support channel through affiliate marketing (clicks, revenue). Cheers for your continued support.
-~--~~~--~-
Follow BitsBeTrippin
► Website - https://www.bitsbetrippin.io
► Facebook - https://www.facebook.com/groups/BitsB...
► Twitch -