Dtube Exclusive - BuzzSteem Ep. 35 [Easing the Elderly into Crypto]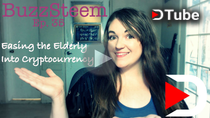 ---
Hi guys!
I covered a few different topics today:
#openmic drama between @luzcypher and some other Steemians.

User @artz and how awesome he is to have compiled a mega-list of all the contests on Steemit.
And the main thing I discussed today was a bounce off of @Taskmaster4550's blog today which was about a basic income. I addressed the issues that I foresaw with those somewhat beyond technology, and how we handle the elderly in general as we brace for impact into this new technological world!
I also plugged the ebook that I transcribed for my mother. If you want to read a heartwarming story about taking care of an elderly parent, this book is for you, and you can find it here!
https://www.amazon.com/Caring-Your-Antiques-Personal-Journey-ebook/dp/B078G1HT3F/ref=sr_1_13?ie=UTF8&qid=1519307213&sr=8-13&keywords=caring+for+your+antiques
And the Steemian of the day is @brianphobos! Go check him out!
That's all for today. Join me tomorrow for some more Steemy Buzz!
---
▶️ DTube
▶️ IPFS