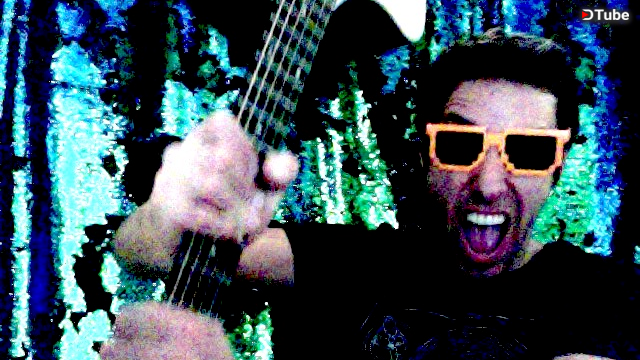 ---
It's the Half Hour Songwrite Challenge WEEKLY RECAP! 💛
This week's selections:
I NEED SPACE (prompt: DEMANDING SPACE IN A CROWDED ELEVATOR, by @marvyinnovation)

DISTANCES TOO GREAT TO CROSS (prompt: HUG FOR MY AUNTS IN ITALY (AND BOWL OF PASTA) by @wonderwop)

IRL (prompt: VIDEO GAME TEABAGGING, by @improv)
One of these entries will become a finished song. But which one? YOU decide, by voting for it! Simply comment the name and/or prompt of the song you'd like to see finished. The entry with the most votes will be outfitted with additional verses, choruses, bridges, codas, and other bells and whistles as needed, and arranged and recorded for Sunday's post. All voters will receive a 100% upvote from me as a thank you for weighing in :)
Remember: 1 vote here + 2 or more pick-a-prompt suggestions this week = 1 Steem Basic Income weekly participation prize :D
Thank you to all of the PICK-A-PROMPTers! So many amazing, creative, challenging, quirky, and occasionally laugh-out-loud wacky prompt ideas, I have as much fun reading prompts as I do writing songs :)
@tibfox, @dmilliz, @wonderwop, @iamjadeline, @mariannewest, @fitinfun, @roundbeargames, @vincy, @wordymouth, @onnovocks, @kaelci, [@masud91], @cityofstars, @sugarfix, @wandrnrose7, @theureview, @kaerpediem, @marvyinnovation, @improv, @sunravelme, @sima369, @mimismartypants, @girlbeforemirror, @praditya, @wakeupkitty, @alimamasstory
---
HALF HOUR SONGWRITE CHALLENGE is an ongoing daily Dtube vlog. Each day I challenge myself to write a song in 30 minutes, using a one word prompt provided by the Pick-a-Prompt contest, by a random word generator (https://wordcounter.net/random-word-generator), or by @mariannewest's daily freewrite on the Steem blockchain.
*PICK-A-PROMPT is a contest that runs every Friday, Saturday, and Sunday on Dtube. Winning prompts receive 3 Steem basic Income shares, and are used for the following day's Half Hour Songwrite Challenge! Pick-a-Prompters who participate 3 or more times in any given week (includes casting votes for the SUNDAY SONG OF THE WEEK) receive 1 SBI :)
---
Lyrics:
---
I NEED SPACE
Gross eww
I don't wanna talk 2 u
I need space
What's up with that hair?
Stop breathing my air
I need space
I need space
Everybody out of the car
I wanna drive so fast
I wanna drive so far
From star to star
My only wish
To pretend none of you exist
I need space
Gimme space
No please stay
It's opposite day
I need space
So wipe that face
Offa yer face
I need space
I need space
Everybody out of the house
I got a gas can an' a match
And I'll burn it down
Right to the ground
Just to get you to leave
'Cuz I'm sick to death of everybody
I need space
And when I dance like nobody's watching
I want it to be because
Nobody's watching
At all
I don't want anybody here to catch me
If I fall
And I will fall
I'll fall
So gimme space!
---
DISTANCES TOO GREAT TO CROSS
When the distance between you and me
Over land and sky and sea
Across the frozen wastes the jungles
Deep and green
Seems too great to cross
I close my eyes in sleep
Wishing to be where I can't be
So when I go out like a light
The miles seem to fall away
And I have left my body
Sleeping here again
To travel 'round the
World visiting
All the loves
I've ever lost
To distances too great to cross
Distances too great to cross
---
IRL
IRL you can't respawn
And yes, it's just a game
But still it seems wrong
Come on...
We're only ghosts in a machine
So no one can see your face?
That doesn't mean your soul is safe
In this place
No one can hear you scream
And you are
Your avatar
So better hope
That you respawn
IRL
IRL
Reality
Is virtual
But you should take
It personal
IRL
IRL
'Cause if you look too close
You can see your ghost
In a hard candy robot shell
IRL
---
©2018 Bennett Italia, All Rights Reserved
---
▶️ DTube
▶️ IPFS