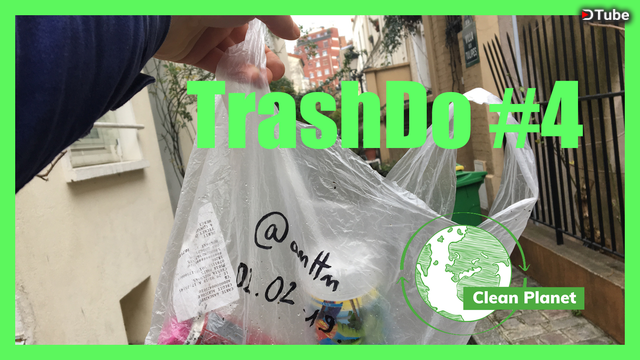 ---
Hello dear friends, Dtubers, Steemians and Cleaners !
First of all, I wish you a happy weekend and I hope you are doing well !
Here today, a new action for @cleanplanet and following the "TrashDo" movement initiated by @nathanmars, this time we filmed together with my girlfriend :) On the way to the station (we go to the countryside after a good week's work) there was no shortage of garbage, far from it ! Classic list of cigarette packages, cans, packaging and plastic bottles... The opportunity to be in the countryside will allow me to go pick up in the middle of the countryside, while walking around : I am delighted (even if I would rather not have anything to pick up of course !)
If you want to join us in this great arrangement of the planet (I hope so !) all you need is a bag, your name on stem, the date and a little will! This concerns us all and the planet will be much better off, but it is certainly the education of future generations that will make the difference !
Sincerely yours, and have a good weekend ! By the way, what are your plans and desires for this weekend ?
Always yours,
@anttn
—
Bonjour chers amis, Dtubers, Steemians and Cleaners !
Tout d'abord, je vous souhaite un joyeux weekend et j'espère que vous allez bien !
Voici aujourd'hui, une nouvelle action pour @cleanplanet et suivant le mouvement « TrashDo » initié par @nathanmars, cette fois-ci nous avons filmé à deux avec ma copine :) Sur le trajet pour aller à la gare (nous partons à la campagne après une bonne semaine de travail) les ordures ne manquaient pas, loin de là ! Liste classique de paquets de cigarettes, de canettes, emballages et bouteilles en plastiques.. L'occasion d'être à la campagne me permettra d'aller ramasser en pleine nature, tout en nous promenant : j'en suis ravi (même si je préférerais n'avoir rien à ramasser bien sûr !)
Si l'envie vous prends de nous rejoindre dans ce grand rangement de la planète (j'espère que oui !) il ne vous faut qu'un sac, vôtre nom sur stem, la date et un peu de volonté ! Cela nous concerne tous et la planète s'en portera bien mieux, mais c'est sûr c'est l'éducation des futures générations qui fera la différence !
Bien à vous, et bon weekend ! D'ailleurs, quels sont vos plans et envies pour ce weekend ?
Toujours vôtre,
@anttn
---
▶️ DTube
▶️ IPFS