My Go-To Training Routine For Front Splits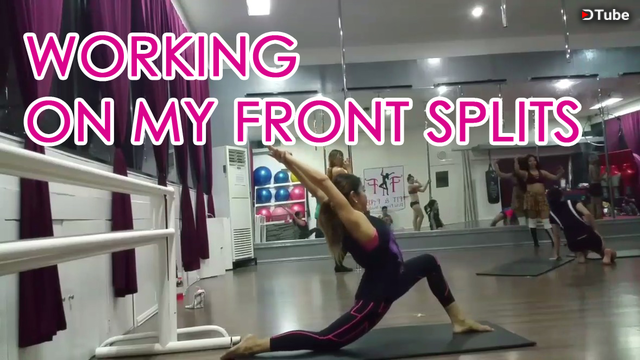 ---
Here, I am sharing a video of my go-to training routine training for my front splits. When I train for my front splits, my exercise would usually take 30 minutes. About 20 minutes of it is devoted just for preparation (warming up and dynamic stretches) and 10 to 15 minutes of the actual stretch. It usually look like this:
I. Warm Up / Cardio
(this is to literally increase my body temperature. I have to be sweating by the end of the cardio exercise)
Jumping jacks - 1 minute
High Knees - 1 minute
squats - 40 rep
wide squats - 40 reps
wide squat pulses- 20 reps
II. Dynamic Stretches
forward and back lunges
forward and back kicks
side ward kicks
hip joint rotation
plank kicks
rotate legs while-planking-whatever-that's-called
III. Deep stretch
At this point, I'm warm enough and ready for my deep stretch. I alternate flexing and pointing my toes as I go deeper in to the stretch. I contract my leg muscles and flex my legs before taking a deep breath and point my toes and extend further as I exhale.
That's all for Now, Thanks for your time!
---
▶️ DTube
▶️ IPFS