WHY WE MOVED TO DTUBE AND OUR FIRST 6 MONTHS ON STEEMIT - Crypto Nights Episode #24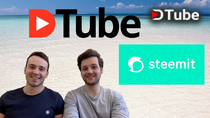 ---
After a leave of absence @alexmavor and @antonburton return for another episode of Crypto Nights. Having been active users on Steemit for 6 months, we have decided to share our thoughts on the platform and explain why D-Tube is a fantastic platform for our show.
D-Tube
One thing that social media platforms have come under massive scrutiny for recently, is the whole issue of censorship and biased algorithms.
We think that it is important that censorship is kept to a minimum - naturally there are some things that should not be promoted online, but generally it is not a good idea to have one centralised company deciding what you can and cannot see.
The checks and balances for content on D-Tube are enforced by the users, rather than by a central source that may have a certain interest.
Secondly, there is of course the cryptocurrency incentive - as this platform runs on the STEEM blockchain, users are rewarded with Steem for posting their content.
This is important as Steemit has shown, there is a real market for applications with cryptocurrency incentives and for a video hosting dapp to be successful, this is vital.
We are huge fans of D-Tube and will be posting our videos on here from now on - only the big interviews and announcements will also be posted on YouTube.
First 6 months on Steemit
This episode also coincides with our first six months on Steemit
Even during the six months that we have been involved we have already seen huge developments both with the interface and behind the scenes!
I remember the excitement after @ned announced Smart Media Tokens and they are undoubtedly going to be a game changer for the platform.
We have also been given the opportunity on this platform to talk about what we are interested in and talk to some really interesting people.
Yeah, our interviews with @stan, @wildtrader, @jacobcards and more were only made possible through this platform.
As we have mentioned in previous episodes, we will be working in New York in next month and hope to arrange a meet up with New York Steemians - comment below if you are interested!
And that is one thing I love about this platform, the community aspect. People from any background can earn by sharing their views and experiences.
But we are not going to pretend that it is all perfect, we still see areas of Steemit that can and need to be improved upon.
However we also recognise that this is a new platform and improvements will inevitably come with the ever growing number of users that sign up.
Shout outs
First shout out goes to @ned - making amazing progress for Steemit and the broader smart media tokens
Secondly to @heimindanger for developing DTube
As always, don't forget to follow, subscribe, up-vote and like and we look forward to seeing you next time!
Follow Us On:
• Steemit: @antonburton @alexmavor
• Twitter:
https://twitter.com/crypto_nights
• YouTube
: Crypto Nights
---
▶️ DTube
▶️ IPFS