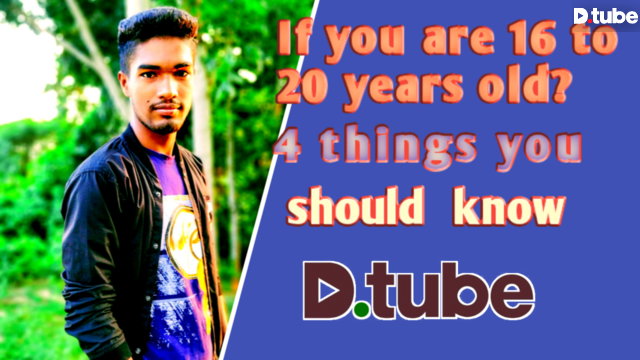 ---
Hello Lovely People
@bdcommunity @steemitbd
At first many many thanks to @dtube for giving chance to share my thoughts.*
@upmewhale & @rocky1
Welcome back with my new vlog.
Today, I will share with you some important things that are very important in our life.Specially for those aged 16 to 20 years.
@ocd & @ocdb @derangedvisions
@acidyo
Lets know it.......🚶🚶🚶
1.Special caution in receiving advice:
When we are 16 to 20, many of us have a lot of advice that needs to be taken right from them.
@carrieallen @eonwarped @isaria @swelker101 @paintingangels @bflanagin
2.Passion
Of course you need to identify the ones you like.
Buy inexperience Not a pricey item:
At this age we have very little money. And we have a lot of hobbies in this age but we need to use any future work without wasting money at this time.
@nelyp @veryspider @svemirac @whack.science
4.Save current:
The human mind is very agile and we think about the past or the future if we find time.
Very few think about the past and the future.
If you want to do something better, think more about the present.
@helpiecake @helpie




It Is My New Account
Life never stops for anyone!😎😎
I am Alamin Sheikh.I am from Bangladesh.I am a student I study on Textile Deploma.I love my parents and my whole family.I always try to be success.I Love DTube platform and many many thanks to dtube for giving chance to share my thoughts.
@zaku @bdvoter @azizbd @ashikstd


Always Find Me On Social Places
Subscribe my YouTube link