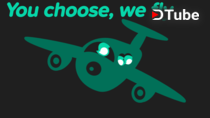 ---
Hello guys and welcome to another post of mine!
It will be a bit more special one today, because my sister and I came up with a really cool idea.
We are disposed to fly to a european country of your choice, to do the stuff you can't or don't have time for, and all of that for your vote!
The way this would work is the following:
We would post a Blog/Vlog each month, announcing the next flight date.
You comment your desired location, the reason we should go there, and the places you would like us to visit.
Upvote the post to reach the ammount needed for flight booking, etc. (Deciding between $250 in votes or $300) It will probably depend on the city aswell.
We will travel to the destination that the comment with most upvotes has suggested.
The top 3 comments will get 65%, 25% and 10% respectively, in SBD if the post's upvotes surpass the ammount needed.
My sister and I aren't making any profit off of this except for the "free" travel.
We would vlog and document everything. That includes withdrawing the money, booking the flights, hotel and obviously the trip itself.
If you're skeptical about this, feel free to watch the video or just leave.
Sorry about my stuttering in the clips below, I was really tired and English felt like a whole new level of speaking.
Have a great day!
---
▶️ DTube
▶️ IPFS