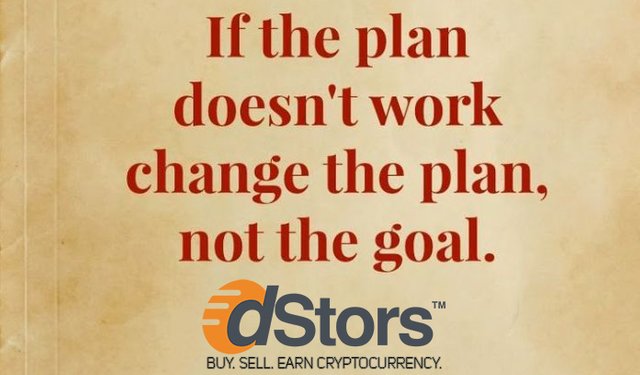 Hello everyone, @kaliju here. This post is regarding the recent announcement by @dcommerce where they've stated that "dStors project has a brand new name". I would like to clarify and share some of my own plans and aspirations for the one and only @dStors and explain our relationship with @dcommerce:
*But It's an honor when you can inspire ideas and have others obsess themselves with those ideas! We need even more people to build various eCommerce channels on steem! Where are you guys? This blockchain is good for it and I've been saying it since this time last year.


It is true that the dCommerce "description" was used by me from the beginning of September 2018 to apply to dStors when I started brainstorming the ideas for an ecommerce solution platform on steem. The letter d in dStors and branding identity that would go with it came from there. I was inspired by a Forbes article as well as this Quora response when researching long-term marketable id's: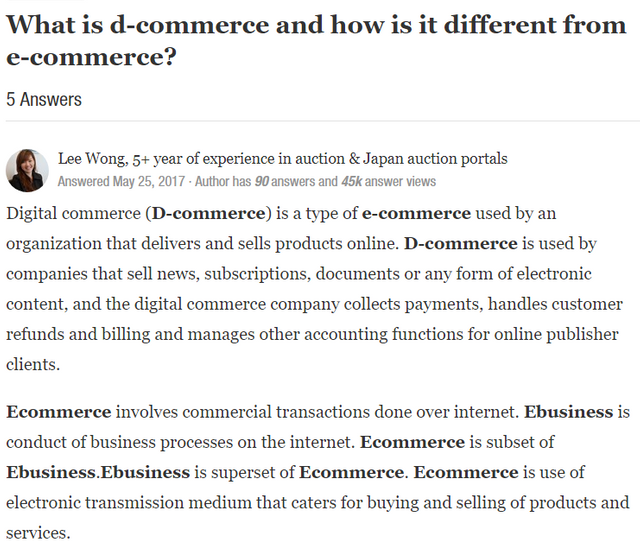 The definition of dcommerce is nothing original or something that I have come up with on my own, no. As a matter of fact, it's a very well-established noun and even a registered trademark used by a certain entity: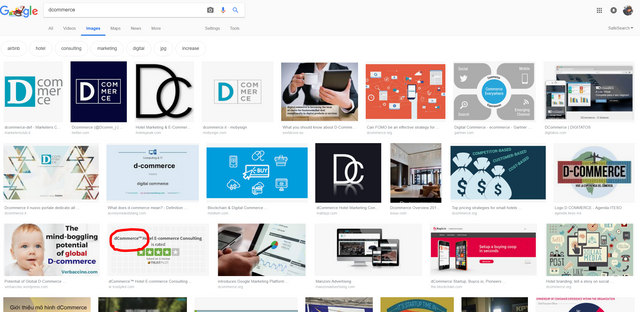 Point is: @dStors is the original idea and concept that @derangedvisions and I are sole proprietors of. The white paper we presented and most of what's in it, on the other hand, was a contribution that came from the persons that I had collaborated with to devise a business plan for this "for-profit" company. There's a lot more to the story than I'm willing to reveal as I believe that the truth will come out on its own if or when the time is right.
It's important to give you this background and establish some facts in order to minimize confusion from the community about dStors.
As you all may have noticed, there has been some issues with dStors over the past few days. Comments were made with the main @dstors account by someone other than @derangedvisions and myself. That wasn't a good look for us - damage was done and I will never forgive those people who tried to take advantage of me and eventually steal my project. After some careful considerations and observations of certain trends and patterns, I have decided that it would be better to part ways with ex-members of dStors due to, in my opinion, unacceptable engagement and communication with the community from their side and the fact that I was losing control over the direction of where it was all going. This morning, I woke up to witness a new venture started by the ex-members of dStors called "dcommerce". This new venture has nothing to do with myself or @derangedvisions or @dStors.
We felt it was important to let you know some of what's been going on up to this point.
This post is the official dStors statement regarding the latest events surrounding our project.
Delegators were asked by ex-members of dStors to quickly remove their delegations from @dstors and transfer them over to their @dcommerce account instead. Lying to them and saying that we re-branded.
That's fine.


Why are we cool with delegators leaving? It's simple.
The delegation campaign wasn't even my idea and also...
1 - Because we do NOT depend on delegations and the steem reward pool to make @dStors a functional success. If you are still delegating - then you are supporting the idea and the development of having our own native circular market that matches willing buyers and sellers that will allow them to utilize STEEM/SBD as the ideal crypto of choice for trading against any goods and services. You're delegating because you're getting STORS SMT tokens in return and want to support us this way.
These SMT tokens will have their own reward pool and will carry value based on their usage through dStors.com that will fuel parts of the website. This was the original premise upon which the dStors platform was to be built on. Fiat payment and other crypto options notwithstanding, the statement about steem and sbd use as the preferred currency is still true going forward and the SMT component will be even more valuable than the whole Bitshares idea. We will not rely on the steem reward pool to suck it dry (as we so blatantly described in the whitepaper using fancy words) just to give it to buyers and sellers who won't even care about anything else except getting their hands on steem and liquidating it. Could be a good thing, but I digress. Anyways...
Many have asked how is it a steem blockchain based project? I read @markkujantunen say:
"Having read the whitepaper, it is still a unclear to me whether or not DStors was going to use the Steem blockchain for storing transaction data as Custom JSON data or as posts or comments. If they were, then using DStors would've created demand for Resource Credits regardless of the method of use of Steem as a data storage. In case Steem would've been used, the traffic generated by the use of DStors would've created demand for Resource Credits and thus Steem Power.
See that in bold? That was the idea all along and dStors.com is being built as we speak in adherence to that idea. I have always said that all the product listings and transaction data would be stored on the blockchain. That's how. As for the what was in the old whitepaper...well, keep reading.
2 - Because the token model (based on BitShares tech!) was a direct influence and insistence to be used by the ex-member(s) of dStors. But that is NO LONGER the case. And I'm glad it left with them. I'm much more interested in SMT's and the adoption of STEEM, not the other way around. We're here to attract users to use the steem blockchain - not abuse the steem blockchain by being similar to a bidbot. At least that's how I felt the model in the "white paper" was positioned. That said, the white paper token flow chart and economic model will be re-written and simplified into a single infographic with the aim of being sophisticated, yet simple and transparent at the same time where even our grandmothers can "dig it".
So, the token model will be replaced by something far more tangible and functional. If you remain a delegator you will receive the native SMT-based STORS token as originally intended but at a much better 5:1 ratio for the delegation series A that we will have to continue form here as many withdrew their delegations in panic. The distribution of STORS tokens will be reworked and I will gather expert advice from the community professionals to present their ideas and consider ALL input from you guys to make sure that we all benefit equally well. Since the original white paper WAS NOT written by me - all contents therein, including their token distribution model, will remain the rightful property of their respective owners.
4 - Because I love open source and starting from here on out - @dstors will be fully open source and we will be sharing our ideas with the community and implementing your suggestions and feedback, so that we can finish building a truly unique shopping channel on the steem blockchain and be proud of it! I feel good about this one.
5 - Because STORS tokens are not designed to be "redeemed" for upvotes - not anymore. No need for that extra layer of complexity. I was never a fan of it in the first place. Assuming every buyer and seller will be a blogger and care about "upvotes" is, to me, questionable practice promoting such an idea. So, we're moving away from that. For delegators to @dStors- I see direct profit sharing can be an option with @dstors. No need for an ICO - after all, we're not a separate blockchain and DON'T have plans to conveniently ditch steem at any given moment, like some have expressed their concerns already saying that we might. No. The ICO space isn't the quick cash-grab that's been advertised. Don't get SAFTed! and do your due diligence and research BEFORE supporting projects that have ONLY profit in mind, especially here on steem - where many call this virtual space their second home.
You're not part of that profit picture with those types of projects, trust me. Back to the future...where was I...oh yeah, so, a percentage of what we earn from transactions can be given back to the users through special dStors programs and community initiatives focused on the buyer and the seller, instead. Proof of business is a concept that aims to monetize YOUR time and effort as a buyer or seller, first. You perform transactions and let the consensus reward you as deemed appropriate. More on this to come.
6 - Because through all this, in the end, I'm more than confident that the smart delegators will stick around, get involved and be some truly happy people in profit and spirit if they continue to support meaningful projects that aim to give back. @dStors as a circular flow marketplace is one such project, I can tell you that much. And smart delegations is what I'd rather see circulate within our ecosystem - for gravitational stability, reliability and dapp development sustainability. So let it rain, let it rain - flush away and let it drain!
What's next?

The main developer @morning left to "work" for "dcommerce". He was a good guy to talk to. All the best to him and I hope he understands that it's not always about the code. I'll be looking to rebuild the team - talk to me on discord if you want to get your hands dirty and do something cool. We can take it to traditional funding routes after the demo if you're interested in "getting stoked by wiifm".
Remember that @kaliju, @dernagedvisions and a few good friends in various communities that support us are the only ones who are directly associated with this project - let's make it so that everyone can be a small part of it - discord us or steem.chat us!
Looking forward: I was told that I would need two developers to produce/finish a kick-ass demo based on what we have in place already. I think with what little SP raised - we can interest some. Basically, we're building a variation on the theme of eBay, and will reward buyers and sellers with tokens for transactions.
Large enough prospective user count from my research.
i) "ebay" with token rewards (default),
ii) "ebay" with token rewards and infrastructure for "amazon web services" type rewards,
iii) more or less complex rewards ... ?
The nice thing about rewards tokens is that suddenly there is a consumer level business plan for a currently hot business topic in the business side of computer science, namely, very fast databases that also accept very mixed information. High variability. Whereas B2B database product is high risk. And this is easy to position. To explain.
It's pretty easy to pitch, currently, to venture capital. At least now and at least for a few years. So, it's either we're going to do it or we're going to pave the way and many will follow the original dStors. Or both ;)
I will continue to keep the Delegation Option open for delegators and while we work on dStors - you'll be receiving traditional upvotes from dStors at 10X the value (scaled) that you delegate once per day. So if 5000 SP delegated gives you:


at 100% self upvote - then it shall be multiplied by 10X and upvote your content once a day, bringing this upvote value to $1.20 for 5kSP delegators and so on!
The native STORS Token, which will have greater value than ever before due to its full utility use on dstors.com (advertisement, premium, etc), will be distributed to all current delegators with the release of SMTs. I will publish reports about the current state of delegations a few weeks from now and identify our supporters going forward.
Stick around and hold tight as we focus on the future and not worry about what others do.
That is All.
Delegate
500SP, 1,000SP, 3,000SP, 5,000SP, 10,000SP, 20,000SP, 50,000SP, 100,000SP, 500,000SP, 1,000,000SP

Share your suggestions, ideas, and stay up to date with the progress of the project through our official channels:

We can discover our individual powers when we connect with each other.
dStors is here to connect people, empower them and create unique economic opportunities for all.

With ♥
@dStors 🛒ヽ(⌐■_■)ノ💱


There's only one dCommerce on Steem and that's https://dstors.com!