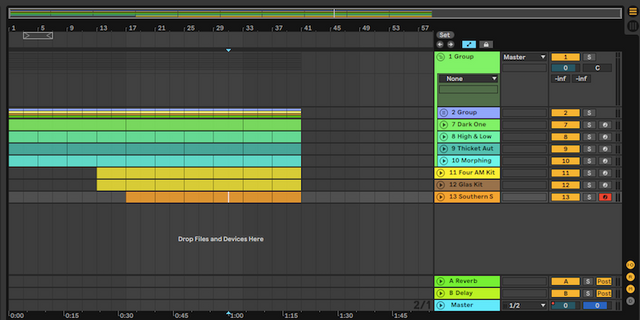 ---
So this was a little creation
from last night. I gave myself 10 minutes to try and come up with something, so I had to rush through adding tracks. I wanted to go for a noisey/ambient/droney sorta vibe, which made things easy, no harmonies or melodies to write, although the drums were a last minute addition. I'll go through the tracks really quick, though this will be a bit of a short walkthrough as most of the tracks are single notes, mostly just based on their timbre/effect. Also, this is my second DSound upload ever!
All of the tracks in
the main group provide the backdrop of noisey/droney weirdness, except for Track 13, which was a super last minute addition that wound up being pretty cool. I basically just went through the "ambient and evolving" sets under each Ableton instrument (operator, sampler, etc) and tried to add things weren't particularly grimey/distorted. I think mostly they worked out, though if I had more time, I probably would've worked on blending them a bit, and have them come in and out of the sort of 'wall of sound'.

Track 13, the final addition, at the 9 minute mark.
I hope you've enjoyed this little tune, kinda short and random, but I like doing these timed challenges. It's a bit nerve-wracking, but its good practice, especially for Ableton "work-flow" techniques.
---
► Listen on DSound
► Listen from source (IPFS)
---
---