The D Files Podcast With @bobaphet and @eftnow - Building a new #esoteric Community with #1UP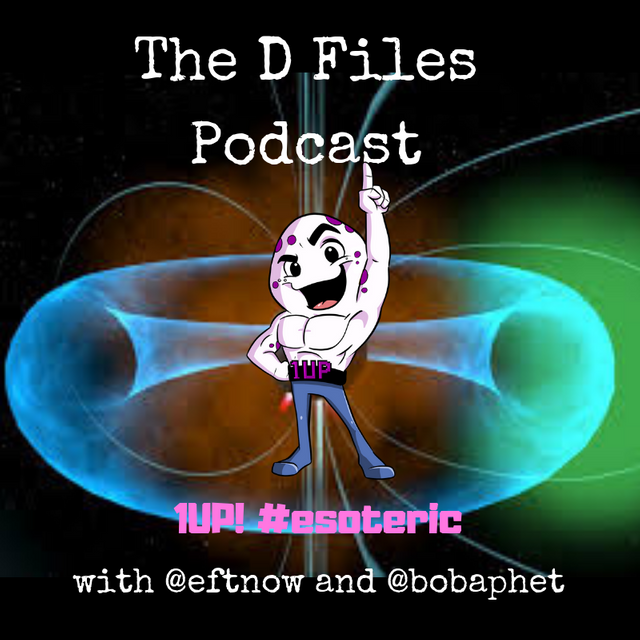 ---
In today's episode, I was really excited to speak with
@bobaphet
about the new hub for all manner of
#esoteric
content that I am creating as part of the new
#1UP
curation system.
1UP is a new open source upvoting system for communities where all user votes are equal. It upvotes the ten highest ranked posts in each community with a smart system for ideal community support and higher curation rewards. To increase this effect even more, we are creating the UP token based on Steem's upcoming Smart Media Token (SMT) and will distribute that to Steemians and communities via airdrops.
There are initially going to be specific airdrops of UP tokens to ten communities, including #dtube, #dsound, #steemmonsters and this new one #esoteric!
The Dfiles is all about esoteric content, so we're excited to share this news with all of the content creators covering the unusual, arcane and all round weird and wonderful subjects, as now there is a hub, so that those who are interested can quickly find this subject matter. It will also give the creators additional opportunities for rewards.
You can find out about the new community and the opportunities that 1UP will bring in this post:
steemit.com/utopian-io/@eftnow/1up-community-airdrop-esoteric-community-spotlight-and-contests
To kick things off, 1UP is giving away ONE MILLION UP tokens in a series of contests over the next ten weeks. Full details are in the blog post linked above. However, here are the headlines:
Weekly Esoteric Content Contest - Enter with your blogs, videos and audio content with a chance to win large amounts of UP tokens weekly.
Weekly Esoteric Graphics and Memes Contest - Get your creative juices flowing and enter your relevant and original memes and infographics, again for big UP token prizes weekly
Esoteric and Visionary Art Contest - This is an opportunity for artists to showcase their existing esoteric art, as well as create something specially for the contest. This is a single 10 week competition with a first prize of 100,000 UP tokens!
Of course @dsound content is eligible for the content creation contest, so we'd love to see your #esoteric podcasts and tracks.
For all contests, please ensure that you follow the instructions in the blog linked above.
Also, to find out all about #1UP and the initial communities that are going to be supported with airdrops from 1UP, join the Discord group at - discord.gg/S5nQnxp
There is also a #fundition campaign to support the development of 1UP which you can check out at - fundition.io/#!/@steem-1up/0xxjea70g
Yet again, as we keep saying on the D Files, things are evolving at a rapid pace and things are just getting better and better!
The D Files x
---
► Listen on DSound
► Listen from source (IPFS)