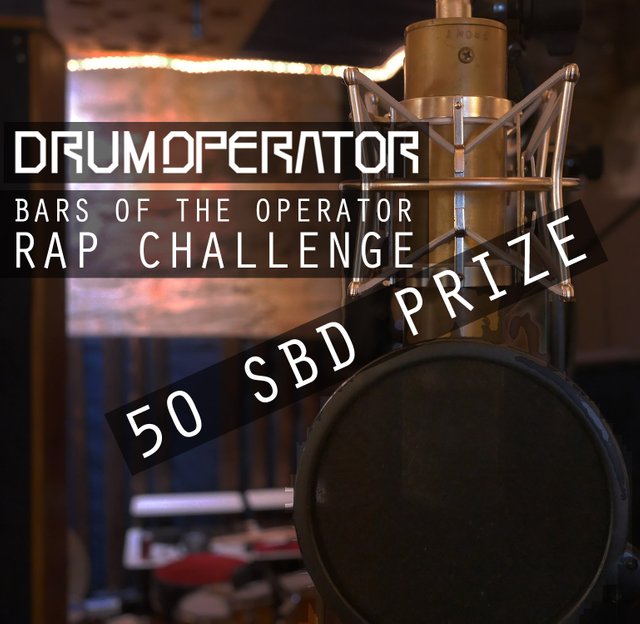 ---
Let's keep this short, sweet and to the point: I've been working on a liquid beat that is begging for a talented MC to drop bars over it. It's in that uptempo bpm range where you could doubletime and hustle a bunch of lyrics in, or take your time and ride the quarter note pulse. I am extremely curious how it gets interpreted... there is also a verse and chorus differentiation after the intro that I encourage everyone to utilize.
Download the track from DSound or THIS LINK.
Resteem this contest post. Record your bars over the beat.
I'm not picky about how you record yourself, be it video or audio, nor where you host it. If you go the audio route, please keep your files for a later mix by me that will be the winning entrants to keep and do whatever they please with.
Once recorded, post a link to your submission in the comments section below. I'll pick the winner in one week, post it onto Dsound and ship them FIFTY SBD, winner take all. Going big with the prize, and hoping for all the ridiculous Steemit MC talent to come blazing out of the woodwork on this one!! Much love to @rondonson for his tireless commitment to building the rap challenge community. I wasn't aware of his work when I made this beat or had the notion to do a rap contest for it, but it was invaluable and my deep dive through the submissions from the community was extremely rewarding and recommended.
STEEMIT MCS I'D LIKE TO SEE CRUSH THIS / RUTHLESS STEEMIT BATTLE CALLOUT:
@bryandivisions @verbal-d @laritheghost @scottychams @voyceatlas @jamesgetsit @d-vine @alao @vandal @scribblingwilly @kenentertainment @wolfnworbeikood @vandigital @orbital753 @gentlesouljah @youngogmarqs @lionel.thebidrs @kingeazi @brahmy @elamental @seanfiji @orbital753 @opinizeunltd @scuzzy @riggsyfort @redsfallin @belemo @talea.mone @boycharlieplays @d-pend @kaliju @thinxx
---
► Listen on DSound
► Listen from source (IPFS)