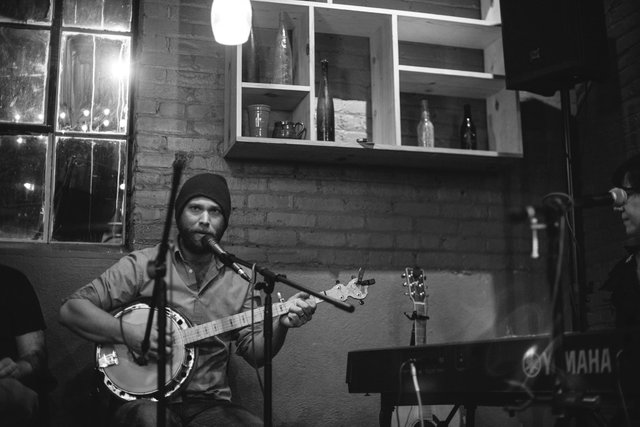 ---
When I was younger I used to think that maybe I'd figure things out when I grew older. Now that I'm older I guess I've figured out that this isn't necessarily true. I think I'm okay with this all in all, but there are some stories you hear that are just so sad and deeply troubling.
My mom always tells me to "just stop thinking," but so far this hasn't seemed to work.
This song "Oh Maria" is written from the perspective of someone who feels things really deeply, almost always sees tragedy, but finds solace in Maria. In the end though, Maria gets overtaken by tragedy, so their roles are reversed, and he finds himself pleading with her and reminding her of what she always told him.
Once again, thanks so much for your support everyone. I was just telling my sister today that steemit has been life-changing. It has really helped me to sit down to write and record several times a week for the first time in a long, long time, and I'm grateful to you and for this platform. Thanks again to @DSound as well.
Lyrics:
Another story and it's a tragedy
One more ending that leaves me cold
Another question to add to the list
That keeps on growing as I grow old
Oh but Maria she says there's a reason for everything
It's somewhere here or up in the air
Oh Maria knows we are bound to discover it
You're gonna take us there
She's got a story it's not a tragedy
She sees beauty it's not the end
Oh there is something she is meant to be
She's gonna make it she's gonna mend
Oh Maria says there's a reason for everything
It's somewhere here or up in the air
Oh Maria knows we are bound to discover it
You're gonna take us there
You had a story it's not a tragedy
You know there's more why do you cry
You did everything you were sent here for
I know it's hard but you've got to try
Oh Maria please say there's a reason for everything
It's somewhere here or up in the air
Oh Maria we all cry out to discover it
You're gonna take us there
Oh Maria please say there's a reason for everything
It's somewhere here or up in the air
Oh Maria we all cry out to discover it
You're gonna take us there
---
► Listen on DSound
► Listen from source (IPFS)