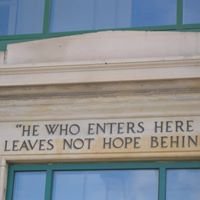 ---
A prison I worked in for a while is located in the middle of Ohio farmland, and depending on the time of the year, it's surrounded by golden crops ready for harvest. It was during this time that one of the fellows I knew in there referred to his new home as "an island of concrete in a sea of gold".
I couldn't get this line and image out of my head and asked him if I could use it in a song, and he agreed, so here it is. "Don't Worry Mama" tells the story of someone who gets caught after years of running from the law, but he finally finds peace, and would really love to tell his mother, but can't since she's already gone.
The photo above is the entrance to the prison. I got harassed and stopped by the guards when they saw me trying to take this picture, and thankfully didn't know that I had already gotten this shot. This moving quote is the opposite to Dante's famous line in Divine Comedy "All hope abandon ye who enter here".
This is the first release of this song. I hope you all enjoy it. Thank you for the ongoing support, and also to the #openmic team as well. It's been a blast meeting so many of you this past week, especially on @msp-waves.
Thanks again to @DSound for this platform as well.
Lyrics:
I see red and blue in a sea of black
They've got me down there's no going back
To a life of running trying to be free
With shadows always chasing me
Don't worry mama your memory's close
No more rolling over in your grave
Don't worry mama the words you spoke
Are settling in one less soul to save
I see justice rise in a sea of hate
The man in robes says it's not too late
To tell them what they need to hear
Before you go and disappear
Don't worry mama your memory's close
No more rolling over in your grave
Don't worry mama the words you spoke
Are settling in one less soul to save
Everything you did for me
Now that I'm here I finally see
And your words they spin around
Even more as the world slows down
I see an island of concrete in a sea of gold
It's where I'm dying or so I'm told
When my last breath is drawn away from me
Will you raise your arms in victory
Don't worry mama your memory's close
No more rolling over in your grave
Don't worry mama the words you spoke
Are settling in one less soul to save
---
► Listen on DSound
► Listen from source (IPFS)