Learn Portuguese with Cris #103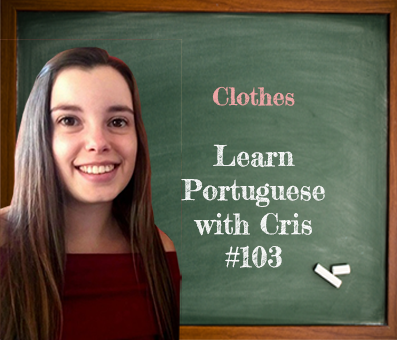 ---
Hello guys! I'm
@crissimoes
and this is my hundredth third post here on
@dsound
. Are you ready for another class?
Today we are going to talk about Clothes.
We are going to make sentences with the words you learned before in the other portuguese lessons.
Let's get started!
Elas têm t-shirts cor de rosa. - They have pink t-shirts.
Eu tenho um casaco quente. - I have a hot coat.
A Rita quer aquele lindo vestido. - Rita wants that beautiful dress.
O João emprestou as suas sapatilhas novas ao Diogo. - João lent his new shoes to Diogo.
Eu tenho que comprar uma camisa. - I have to buy a shirt.
Os sapatos do Rui estão sujos. - Rui's shoes are dirty.
Elas têm vestidos iguais. They have similar dresses.
Nós vamos comprar meias naquela loja. - We are going to buy socks in that shop.
Ele veste o tamanho 40 de calças. - He wears the size 40 of pants.
Tens de calçar as botas agora! - You have to put on the boots now!
We have come to the end of another Portuguese class.
If you have any question please let me know in the comments bellow.
Hope you have enjoyed my hundredth third post here on @dsound and I'm looking foward to see you next time!
Bye!!
---
► Listen on DSound
► Listen from source (IPFS)