Learn Portuguese with Cris #98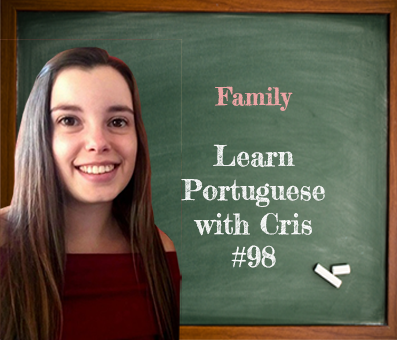 ---
Hello guys! I'm
@crissimoes
and this is my ninety eighth post here on
@dsound
. Are you ready for another class?
Today we are going to talk about Family.
We are going to make some sentences that we usually use in portuguese.
Let's get started!
Eu tenho duas filhas e um filho. - I have two daughters and one son.
Os meus pais estão casados. - My parents are married.
Ela tem uma sobrinha com dois anos. - She has a two-year-old niece.
Ele e o meu pai são irmãos. - He and my father are brothers.
O Francisco quer casar e ter uma família. - Francisco wants to marry and have family.
A mulher do meu irmão é minha cunhada. - My brother's wife is my sister-in-law.
Ele e ela são irmãos. - He and she are siblings.
O marido da minha mãe é meu padrasto. - My mother's husband is my stepfather.
Nós somos tios de duas meninas. - We are uncles of two girls.
A Ana e o Diogo namoram há três anos. - Ana and Diogo have been dating for three years.
We have come to the end of another Portuguese class.
If you have any question please let me know in the comments bellow.
Hope you have enjoyed my ninety eighth post here on @dsound and I'm looking foward to see you next time!
Bye!!
---
► Listen on DSound
► Listen from source (IPFS)