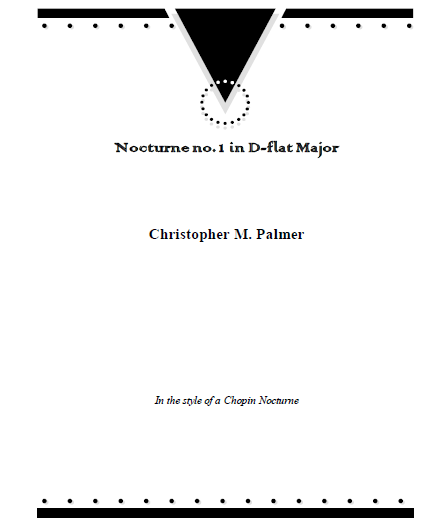 ---
Hello everyone! Here is an updated version of my Nocturne in the Style of Chopin. The first post I did of this was extremely successful (thank you for that!), but as I noted in [that article](
steemit.com/classical-music/@cmp2020/study-in-the-style-of-a-chopin-nocturne-original-experimental-composition
), it was a rushed recording. I decided to make another recording and this time utilize DSound so that you can (legally) download it for your enjoyment (if you wish). I am also going to utilize this article to discuss what I believe constitutes Chopin's style (because I forgot to in the last one).
Chopin's style
I used to think that Chopin's music consisted of really tough musical ideas that Chopin wrote because he enjoyed watching others suffer. Now, after exposure to nocturnes (such as the Op. 27 no. 2 in D-flat major), I notice that Chopin utilizes flourishes of complex ideas in his music to expand upon what he has already said. What I have observed in the structure is that he sometimes (such as in the Op. 9 no 2 nocturne) utilizes the same themes and expands them through variations. Therefore, when writing in his style, I structured it like the Op. 9 no 2 (A A1 B B1 coda) whilst utilizing a similar key and left hand figuration to the Op. 27 no 9. I think Chopin's style is really in the expressions and articulation that the music utilizes. I tried to focus on these things in my playing, but I have to think about these things more (and make them more concrete). Anyway, here is my first Nocturne in D-flat Major in the style of Chopin Nocturne:
Thanks for listening to this!
s1.postimg.org/2bf9vv0mhr/CMP2020_verified.png
Also remember to check for: My weekly 7 post, As well as my composer birthday posts (Note) In order to encourage meaningful feedback on the platform, I will check comment trails of users who leave superficial comments (ie "Awesome post," or "Upvoted.") and will mute any users who exhibit a pattern of leaving "spammy" comments.
---
► Listen on DSound
► Listen from source (IPFS)